Cruise Lines Are Sending Ships To The Caribbean To Rescue Irma Victims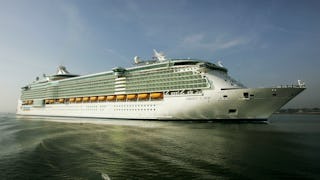 Image via Bruno Vincent/Getty Images
With cruises canceled, ships are transporting supplies and evacuating survivors
While we wait to find out how much damage Hurricane Irma did in Florida, efforts are already underway to get aid to Caribbean islands that were decimated by Irma last week. And since many Caribbean cruises were canceled because of the storm, those ships are now headed to hard-hit islands with food, water, supplies and plans to help evacuate residents.
On Sunday, Norwegian Cruise Line announced in a release that it had deployed its 2,000-passenger Norwegian Sky ship to St. Thomas with supplies and room for evacuees. The same day, Royal Caribbean announced its plans to send two ships to the islands of St. Maarten and St. Thomas, while readying two more ships to provide aid to parts of Florida, including the Keys and Tampa, if needed.
"We are mobilizing ships and supplies to help people in need," Royal Caribbean said in a release. "In coordination with the US and local governments we are dispatching ships to St. Thomas and St. Maarten and stand ready to assist Key West, and other locations."
St. Maarten, a small island east of Puerto Rico, was devastated by Irma. The government of the Netherlands announced that on the island's Dutch side, known as St. Martin, 70 percent of houses were destroyed or badly damaged, and at least four people were reported killed in the storm. Early Sunday, reports of violence started coming from the island, as survivors of the hurricane fought over the last available food and water supplies. Royal Caribbean's Adventure of the Sea ship, with capacity for 3,800 passengers, arrived in St. Maarten Sunday with more supplies, as well as room to help evacuate people from the island as needed.
In the next few days, Royal Caribbean's 2,800-passenger Majesty of the Seas ship will make stops at St. Thomas, a part of the U.S. Virgin Islands where the only hospital was destroyed by Irma, as well as St. Maarten with more supplied and other aid.
Meanwhile, Royal Caribbean's Empress of the Seas and Enchantment of the Seas are prepped with supplies and ready to head to Key West or Tampa if it turns out they're needed once the impact of the storm is known, the company said. Enchantment of the Seas was already used late last week to help evacuate Royal Caribbean's employees and their families from Miami as Irma headed their way.
As of now, Irma has been downgraded to a tropical storm, but is still hitting Florida with winds as high as 70 mph. It could be days before we begin to know what kind of damage the state has sustained. But we do know that people are already banding together to help in whatever way is needed, and that's the good that's coming out of the storm.