8 Crew Members Positive For COVID Before Cruise Ship Set To Sail Again
by Madison Vanderberg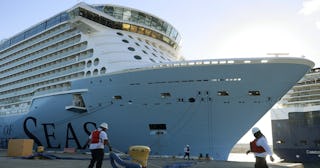 Joe Raedle/Getty Images
Cruise ship employees test positive for COVID-19 just weeks before the ship's inaugural sail
Back in March 2020, the coronavirus pandemic began to spread and the world watched in horror as thousands of passengers onboard the Grand Princess Cruise Ship sat docked outside the coast of California as more and more of the cruise ship's guests tested positive for COVID-19. It's going to take a long time to erase the COVID-19 and cruise ship connection from the publics' minds, but the cruise industry is trying and so far the relaunch of the cruise industry has been off to a rocky start. A little over two weeks before one of Royal Caribbean International's new ships was set to sail, eight crew members tested positive for COVID-19.
Royal Caribbean International is delaying the post-pandemic launch of its Odyssey of the Seas cruise ship after eight crew members tested positive for COVID-19.
Now, the July 1, 2021 launch date has been postponed to July 31, 2021.
The company CEO says the eight employees (out of 1400 crew members) tested positive during a routine COVID-19 check, however, it's important to point out that the crew members were not fully vaccinated at the time of the test. NBC News reports that the cruise line vaccinated all of its employees on the same day on June 4. Everyone will be considered fully vaccinated on June 18, which is in two days. This incident proves that the "fully vaccinated" timeline exists for a reason as these crew members got sick even after getting vaccinated but before reaching "fully vaccinated" status. Six of the people who tested positive were asymptomatic, while two had mild symptoms. However, now hundreds of crew members are under quarantine.
"While disappointing, this is the right decision for the health and well-being of our crew and guests," CEO Michael Bayley said of the decision to push the cruise's launch date out a month.
This startling news comes just a week after two passengers on a different Royal Caribbean-owned cruise tested positive for COVID-19. Celebrity Millennium, which is part of Celebrity Cruises owned by the Royal Caribbean Group, was the first cruise ship to sail out of North America since the pandemic. Unfortunately, two vaccinated guests, who shared a stateroom, tested positive for COVID-19 during a routine end-of-trip COVID-19 test. At the time of the announcement, the guests were "asymptomatic and currently in isolation and being monitored by our medical team." The thing about this incident is that this particular cruise line required 100% vaccinations for crew and guests, so even when you follow CDC guidelines to a tee, cruise ship travel is still a pandemic sore spot.
Hopefully, nobody else on that cruise line was infected, but damn, it's not a good time to be Royal Caribbean, or any cruise ship operator for that matter. Gonna stick to land-based travel for a bit.