Cub Scout Kicked Out Of Den For Questioning His Senator On Gun Control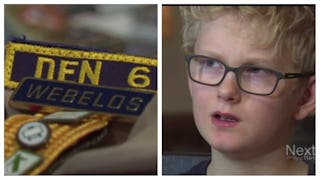 Image via Next 9 News
A lot of adults could learn from this brave 11-year-old's actions
Gun control is about as sensitive and divisive a topic can get in today's society. One Colorado boy learned that the hard way when he asked some hard hitting questions of a state senator – and was promptly kicked out of his Cub Scout den for doing so.
Eleven-year-old Ames Mayfield questioned, among other things, Republican state senator Vicki Marble's stance on gun control. "I was shocked that you co-sponsored a bill to allow domestic violence offenders to continue to own a gun. Why on earth would you want someone who beats their wife to have access to a gun?" he asked. He later said, "There's something wrong in our country where Republicans believe it's a right to own a gun, but a privilege to have health care."
Marble, who was visiting the Cub Scout den in Denver, responded, in part, that there is a need for "crime control" then cited several gun related incidents that took place in "gun free zones." Sigh. Let's just accept that regulations and laws should only exist if 100 percent of people follow them. Perhaps we should throw out laws protecting citizens against theft and murder while we're at it. If a person is going to kill someone, the law isn't going to stop them, so forget it.
"I'm really heartbroken that my den leader, which I felt I had a pretty good relationship with, decided to kick me out," Ames told NBC Denver affiliate, 9 News. "I'm a big fan of Cub Scouts, and I think it's one of my favorite things to do."
Some are pointing fingers at Ames' mom, Lori Mayfield, who captured the exchange on video, for pushing her agenda onto her son. But she says the questions all came from Ames, himself.
"I don't think any child should be banned from coming back for asking tough questions," Mayfield said. "There were kids who asked about fracking, about the border wall, about fossil fuels — in the mix of that, it didn't seem like gun control was that different."
Of course these kids shouldn't be banned or feel intimidated challenging rules or opinions they don't agree with — that's what we want from our youth. Ames shouldn't be the exception to the rule, he should be the rule.
Ames later questioned the senator about remarks she made in 2013, saying, "I was astonished that you blamed black people for poor health and poverty because of all the chicken and barbecue they eat," Ames stated.
"I didn't; that was made up by the media," Marble responded back. "So, you want to believe it? You believe it. But that's not how it went down. I didn't do that. That was false. Get both sides of the story."
Mayfield said the Scout's pack leader told her that her son would not be welcomed back into the den just days after he questioned the senator. "He let me know in so many words that the den leader was upset about the topic of gun control," Mayfield told the New York Times. "It was too politically charged."
The Boy Scouts of America declined to comment on the situation itself, but noted Ames has moved to another unit. "The Boy Scouts of America and the Denver Area Council are pleased that the family will continue their participation in Scouting," Slate reported.
How about, "We cannot believe this has happened and have fired the jackass who dared to kick a child out for speaking his mind."
Since Mayfield's video has gone viral, Ames has received an outpouring of support, including a tweet from former Arizona congresswoman Gabrielle Giffords:
"Ames, call me in 14 years. I'll campaign for you," she wrote. Others shared their support:
It takes a lot of courage to speak up and fight for what you believe in. There is no doubt this kid has a bright future ahead of him.
This article was originally published on