Cubs Player Visibly Shaken After Line Drive Hits Child In Stands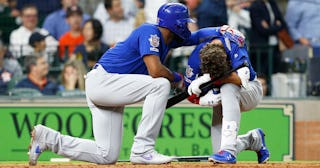 Bob Levey/Getty
Cubs player Albert Almora Jr. was in tears after his foul ball hit a young girl in the stands
Houston's Minute Maid Park fell silent for several minutes during last night's game between the Houston Astros and the Chicago Cubs, after Cubs player Albert Almora Jr. hit a foul ball that struck a four-year-old girl in the stands.
The girl was seen crying as she was rushed up the stairs, and she was taken to a hospital immediately. While there are no specific updates on her condition, CBS reported that she's expected to be OK. Meanwhile, Almora broke down in tears on the field, where he was consoled by his coach and teammates.
Photos and videos from the game are just heartbreaking. You can see the gut-wrenching pain that Almora was in after he saw what had happened.
He could be heard screaming "oh my God" in the seconds after the hit.
In tears on the field, he was surrounded by his teammates and coach, who wrapped their arms around him while he took a knee.
Almora even headed up to the section where the child was hit to check on her, collapsing into the arms of a security guard who comforted him.
Reporters and fans who were at the game reported that it was eerily quiet inside the stadium as play was stopped right after the accident.
Watching him go through every emotion in the book was completely heartbreaking for everyone watching, no matter what team they were rooting for.
Almora is a father to two young boys, so his heartfelt reaction clearly came from a place other than just a baseball player.
https://www.instagram.com/albertalmorajr/p/BttQa65gFPZ/
In an interview after the game, he broke down again, saying he saw the girl as she was hit.
"As soon as I hit it, the first person I locked eyes on was her," he said. "Obviously I want to put a net around the whole stadium."
Almora continued, through tears, "Just praying. I'm speechless. I'm at loss of words. Being a father, two boys."
He also said he hopes to be able to reach out to the little girl and her family, once she's well enough to be up for it.
"God willing, I'll be able to have a relationship with this little girl for the rest of my life. But just prayers right now. That's all I really could control," he said.
Safety measures at baseball stadiums, like protective netting, have long been part of the conversation surrounding the sport. Sadly, accidents at games aren't entirely uncommon — a toddler was hit in 2017 at Yankee Stadium by a foul ball. And a mom of three died earlier this year after a foul ball struck her in the head during a game. No player should have to bear a burden like that, and stadiums should take a hard look at whether their current safety measures are enough to keep fans safe.