Cubs Intervene After Fan Swipes Ball From Child
by Valerie Williams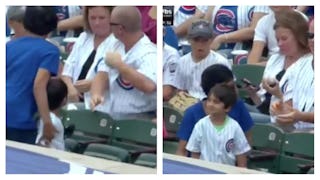 Image via Twitter/Cubs
A Cubs fan picked up a baseball meant for the little boy in front of him — but all wasn't as it seemed
Adults are so garbage that it's not surprising this video footage is making the internet irate, even if it's not exactly what it seems. It appeared that an adult fan happily swiped a baseball tossed by a Cubs coach that was very clearly meant for the little boy in front of him. Luckily, everyone ended up winning in the end, including the kid and the guy behind him who was wrongly vilified by the internet until the whole story came out.
In footage caught during yesterday's Cubs game at Wrigley Field, first base coach Will Venable tossed a ball to a young child seated in the first row. Unfortunately, the ball got away from the little guy and went under the seat where the man behind him nabbed it and handed it to the woman next to him. Cue all the adults around them laughing while this little boy comes up empty-handed.
Possibly the most infuriating 12 seconds of video ever, right? Thankfully, all wasn't as it seemed — and regardless, the Cubs made this boy's day *so* much better.
That's right — someone on the Cubs side noticed what went down and decided to deliver the kid a separate baseball and an autographed Javy Baez baseball. But as it turns out, the guy behind him had been do-gooding with balls tossed into the stands during the entire game, grabbing them and handing them out to little kids seated near him — including the boy in the viral footage.
Although this time it was a case of everyone pouncing without knowing the whole story, people do get rightly upset because this isn't exactly a new thing — adults snatching balls at professional sporting events that were very clearly meant for kids. It's pretty rampant behavior actually. Check out these jerks, carelessly stomping all over the happiness of small children in order to score their own piece of memorabilia.
Anyone else ready to brawl with obnoxious adult sports fans after watching that? I think my blood pressure literally went up watching that. Luckily, it wasn't the case this time around and everyone left the game happy.
While it's certainly not required of an adult fan who catches a ball in the stands to hand it over to a nearby child, it takes a special brand of garbage human to actually steal one that was obviously intended for someone half their size. Not too many fellow sports fans are here for it.
https://twitter.com/jetpack/status/1021191412405030913https://twitter.com/jetpack/status/1021153909690249216
Moral of the story? Don't be that guy. Ever. And luckily, this time, the subject of the footage was doing the right thing. But if you are, karma will come around eventually. As for the Cubs? They went on to win the game 7-2.
This article was originally published on