Cuddle Cots Give Families Grieving The Loss of An Infant The Gift Of Time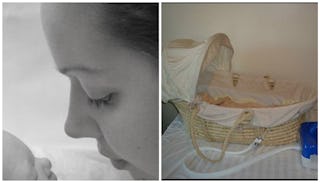 Cuddle Cots allow extra time to say goodbye to babies who pass away in hospital
Losing a child is an experience no human being should ever have to endure. Children are never supposed to die before you. That's not the way it is supposed to happen. Becki Wilson's infant son, Carter-James, died at just 16 hours old, and the new mom from England was heartbroken. As she prepared to say goodbye to her son, the Wythenshaw Hospital where she gave birth offered Becki a chance to spend more time with her son.
The neonatal unit allowed Carter-James to be placed in a "Cuddle Cot" shortly after he passed away. The cooling device, which can be attached to a Moses basket or similar cot, keeps the baby's body at an appropriate temperature to allow grieving family members to spend as much time as they need with their child. Babies are cleaned, weighed and measured and then swaddled and placed in the cot. The cot is then set on the eight-degree cooling pad, which slows down the effects of nature.
For Becki, she described this extra time as some of the "most magical days of her life." "Our experience was made peacefull (sic) and dignified and a hell of alot easier by the staff at wythenshaw neonatal and the help of the "Cuddle Cot," Wilson posted on her Crowdfunding page. "I'm eternally gratefully to them for helping to make my boys 16 hours and some time after the most magical of my life. Thanks to them I got to feel like his mummy I got to hold, cuddle and dress my baby like every mother should."
The resounding emotion present when someone you love leaves you is always I wish I had more time. For a parent who lost a child, saying goodbye on your own terms to a person you were meant to spend a lifetime with, every single minute would be a gift. Losing a child at any age is unfathomable, but for mothers who have just given birth, often after hours of labor, no sleep and pain medication, they are not in the state of mind to process a birth and a death so quickly.
Becki started the crowdfunding page to bring awareness to Carter-James story and to help raise money so that more Cuddle Cots can be delivered to hospitals in need. At close to $3000 a unit, most hospitals rely on donations from non-profit organization's funding efforts such as this and The United States Cuddle Cot Campaign Initiative.
For the thousands of families that have been given the gift of time, the Cuddle Cot can sometimes make all the difference.
This article was originally published on