Taming Your Child's Unruly Hair With Fewer Tears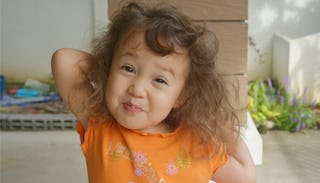 minimina / Shutterstock
There is a picture of my son when he was 8 months old. He is pulling himself up into a standing position, grinning one of those gummy, baby grins, and his hair is lying flat against his head. It is the last picture of him with straight hair. Shortly after, summer humidity kicked in and his hair curled right up into a fluffy poof on his head. I was thrilled because I love curly hair, especially when little boys wear it long.
As his hair grew longer, so did bath time. We were adding in conditioners, products, oils, anything we could get our hands on that would let us run a comb through it. For a time, I just let it grow wild. He walked around with a mess of knotted curls that suited his carefree personality. We rolled with it.
But eventually, we realized that if we weren't willing to buzz it all off, we needed to get serious so we weren't dealing with dreadlocks when we washed his hair once a week.
Ask any random group of people how they handle curly hair, and a number of them will tell you about the Wet Brush. I do not understand the particular brand of witchcraft which allows this brush to work, but trust me, it works. It combs through wet hair with ease, detangling the most matted knots my son develops. It looks like a normal brush, but it is far from it. The Wet Brush is extraordinary.
In conjunction with that miracle of a hairbrush, we use It's a 10 leave-in conditioner. I spray this throughout my son's wet hair after his bath. I use it on my own hair too. Brushing and detangling is made even easier, as if that were possible given how much I love our brush. But the difference is huge, and it keeps his hair soft after it dries.
During bath time, if you can get your kid to play in the tub for a few minutes with conditioner in their hair, let them splash and go crazy. The extra time the conditioner is able to sit in their hair helps it do its job. It can penetrate the hair shaft and soak in instead of touching the surface for five seconds and then being rinsed right off. A great option for kids that is specifically for detangling is Little Twig conditioning detangler. You can choose to leave this in, which is great for coarse or dry hair.
When his hair is dry, our son's hair still needs some maintenance to stay manageable between washes. He wakes up every morning with an impressive case of bedhead. If it just needs some slight taming to get it under control again, I used a Tangle Teezer. It's gentle on the hair and the bristles are thin and flexible, which helps cut down on "pulling."
If I need heavier artillery, I give a quick spray with our SheaMoisture KIDS Extra-Moisturizer Detangler. Then I take the Wet Brush to any knots that developed overnight. This spray smells great and dampens the hair enough that a quick brushing won't turn it into cotton fluff.
Further into the week, we usually need to put his hair up in a bun. This is cute beyond words so I don't mind one iota. Fabric hair ties are much more gentle on the hair than the heavy elastics we're all used to. They don't leave a big crimp behind, and they aren't as quick to break and damage hair. I keep a few of these around my wrist at all times.
Should the day come that my son decides to break my heart and asks to cut his hair short, I'll abide. But I'm hoping to put that day off as long as I can by making his haircare as quick and painless as possible.
This post contains affiliate links, which means we receive a small portion of the sale if you make a purchase using this link.
This article was originally published on