Several States Are Reintroducing Cursive In Elementary School Curriculums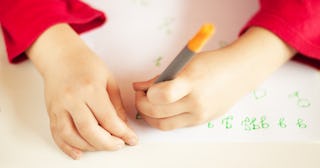 Mrs_2015/Getty
Texas has become the latest state to bring cursive back
Just like slip dresses and the revival of Beverly Hills, 90210, it looks like cursive may get a second life: a number of schools across the nation are joining a movement to bring the sophisticated writing style back, reintroducing it into elementary schools.
As of the 2019-2020 school year, Texas students will be gliding their pencils across paper once more per the state's newly revamped Education Code. Cursive handwriting will be introduced to second grade students, and by third they will be expected to "write complete words, thoughts, and answers legibly in cursive writing leaving appropriate spaces between words." In fourth-grade they will be expected to "write legibly in cursive to complete assignments" and instruction will continue into grade five.
This movement has been inspired by recent scientific studies that have found a link between handwriting and memory. Texas is the 18th state to reintroduce cursive to curriculum, following the lead of state's such as Alabama, Louisiana, Arkansas, Virginia, California and North Carolina.
"Studies have shown [it] to improve brain development in the areas of thinking, language and working memory as well as stimulating the brain," Katrina Erickson, of curriculum provider Learning Without Tears, recently told Houston Public Media. "Writing by hand helps to tie that content to their memory for faster, more efficient and stable recall later on."
Back in the stone ages — aka the pre-millennium era, when TI-82 calculators were about the most high-tech item you carried into a classroom — cursive handwriting was part of the elementary school core curriculum. If you are over the age of thirty, it's likely that you spent endless hours of the school day looping and curling those letters to perfection on primary paper. However, sometime over the last few decades cursive started dying a slow death, likely due to budgetary restraints and schools deeming it a waste of time.
Most people are supportive of the decision to put it back in schools, pointing out that it should never have been taken out in the first place:
Of course, there are others who think schools should be allocating their resources to teaching others skills.
Clearly, people have a lot of feelings on this topic, so it will be interesting to see if other states join the ones that have already made learning cursive a curriculum priority.
This article was originally published on