You Can Buy A Collar That Swears When Your Dog Barks
by Julie Scagell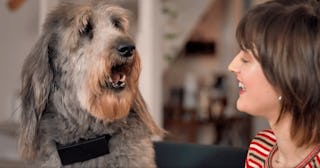 Cuss Collar
The Cuss Collar lets your dog get their pent up frustrations out
If you own a dog, you likely have multiple "conversations" with them a day. Of course, these are one-sided because, well, dogs can't talk. The creators of Cuss Collar, however, have changed the game, making a collar that will swear every time your dog barks — allowing them the ability to communicate in a way everyone will appreciate.
Dogs have to have a lot of pent up frustration. They are the best things on the planet and should be treated as such 100 percent of the time — but we humans make mistakes. Maybe we didn't have time for the dog park. Perhaps we missed "cheese time" or wouldn't let them into the bathroom to sit in between our legs while we're trying to do our business. We didn't understand the significance of that tenth belly rub. The Cuss Collar is a way to get all those frustrations out so they can go back to the tail-wagging, Best Boy/Girl they were born to be.
The Cuss Collar fastens around your dog's neck and will spit out a swear word every time your dog barks. The collar is pre-recorded with all our favorite words like "bullshit," "fuck," "shit," "asshole," and many others, so every time they bark you'll know exactly how they feel.
However and wherever you decide to use the collar, it will be a source of eternal entertainment for the family. Everyone loves a good swear sesh, and your dog should have that same ability to let loose and share their feelings with the world. Plus, if your dog barks a lot, you know how annoying it can be. Maybe you find yourself swearing at your dog when they do? Now they will swear back. Fun!
The product's website states that the product isn't a "shock/vibration/training collar and is not intended for anti-bark training use." It's simply a way for our puppers to let us know how they're feeling and for their owners to get a good laugh.
Of course, you may want to take it off if you're headed on a neighborhood walk (or not, depending on whether you like your neighbors) or to the dog park. You'll definitely want to reconsider the collar if your small humans have friends over (unless you don't like their friends, either).
The collar is currently sold out, but have no fear. The company is working on more and interested parties can sign up for details on its next shipment by texting the number listed on the website, so you can get a leg up on the competition.
This article was originally published on