You Need This Magical Unicorn Humidifier That Glows In The Dark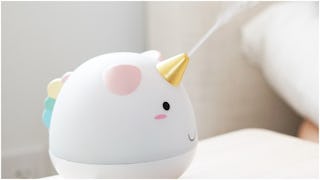 Image via Firebox
Unicorn humidifiers are possibly the cutest invention you'll ever see
Are you currently suffering through your kid's flu and cold season, and barely living to tell the tale? Well, I would like to turn your attention immediately to Elodie the Unicorn Humidifier, which is pretty much the cutest, most practical invention you'll ever lay your eyes on. Also, it glows in the dark, which means this magical creature will both clear your child's sinuses and scare away any potential monsters hiding under the bed.
Here's the deal with this adorable little unicorn. She rings at $56 and has a golden horn that shoots out cool mist for 6-8 hours. I repeat — it shoots the mist out of its horn. She comes with auto shut-off modes at 60, 90 and 180 minutes. You can add essential oils to her, so that the air's filled with a relaxing scent, and you'll (almost) feel like you're at a spa.
Also, she's cute. So, so freaking cute.
Okay, I know I said that this was the perfect gift for your child's bedroom — but it could also probably find a really, really nice spot on your night table as well. Or office desk. If you're still unconvinced, please just look at little Elodie glow. How can you ever say no to a cheerful, chubby, glowing unicorn that only wants you to feel better?
It really, really seems like the world needs all the magical horns it can get right about now. Elodie the Unicorn Humidifier was created after 1,919 Kickstarter backers supported the burgeoning invention. That's a whopping $125,503 raised. We will literally take any and all unicorns— from ginormous pool floats to toilet paper (yes, unicorn-themed toilet paper is actually a thing).
If your sinuses are just fine, but you'd really like some Elodie in your life, you can snag this very adorable, microwave safe unicorn-shaped mug from the collection.
OR (be still all of our hearts) this little unicorn planter. There's four drainage holes in her belly to prevent overwatering and this would probably give you excellent motivation to finally remember to water your damn plants.
Also, helloooo little baby Elodie hanging off this beautiful, sugary pink mug.
Basically, your life's about to get a whole lot more magical and it's all thanks to a chubby, smiling unicorn name Elodie.
This article was originally published on