The Cutest Plant You Probably Won't Kill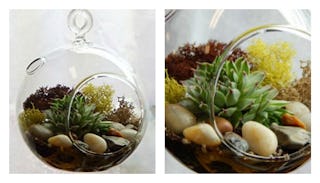 Amazon
Spring is officially here, and I've got the urge to green my house up. The only problem is, with two small children and three pets to take care of, I barely remember to take care of myself. Adding fussy houseplants into the mix will not bode well for the flowers I bring home from an over-ambitious trip to the gardening store.
Enter this cute little succulent terrarium kit. I like to call them suckulents because I suck, and these are the only plants I can keep alive. They don't need a ton of light, and an occasional spritz of water keeps them plenty hydrated.
This kit comes with everything you need to create a tiny garden in your home, including an actual plant. The finished product looks super-fancy and goes great with an Instagram account. When you're done, the terrarium can sit flat on a table or shelf, or if you're like me and have tiny humans and a few cats intent on destruction, it can hang out of reach from the ceiling or a wall hook.
It's a neat project to do by yourself, or order a few and have some friends over. You can have a fun girls' night in, and everyone leaves with something to show for it besides just empty bottles and laugh lines.
This post contains affiliate links, which means we receive a small portion of the sale if you make a purchase using this link.
This article was originally published on