Scary Mommy Editor Picks: Because Cyber Monday Deals Are Still Going Strong
by Samantha Angoletta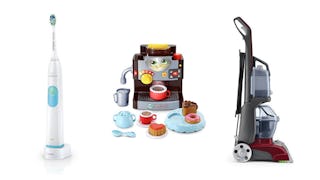 Amazon
I thought yesterday had all the deals, but apparently Amazon is riding this Cyber Monday wave all week long.
I don't know that I would recommend this as a holiday gift per se, but now is the time to scoop this up if you have children and/or pets. Highly rated, No. 1 bestseller, and $99 right now. Your carpet, and area rugs, will thank you.
People are loving this Disney edition of Pictopia, and right now it will only put you out $12.74. A steal, really.
If you've got a Paw Patrol fan in the fam, you can score the highly coveted Paw Patroller for 50% off today.
If you're going to have holiday guests, and (like me) you don't have a spare room, you can snag this air mattress for $35. (At this price, you won't have to rehome your beloved cat if she pops a hole in it.)
Speaking of holiday guests, a white noise machine is never a bad idea, especially when it has a USB port and timer.
Again, I know that giving the gift of a toothbrush (even a top-rated, fancy electric model) could be taken out of context, but now is the time to scoop deals for yourself (and family) too. If you activate the $10 coupon, this will only cost you $29.95 today. (Regular price is $70)
And, random find, but how freaking adorable is this? Your baby can be the world's cutest barista.
Okay, I think I'm done. For now.
Editors may receive samples and/or a share from purchases made via links on this page. All opinions are our own.