Cyber Monday Deals for The Control Freak In Your Life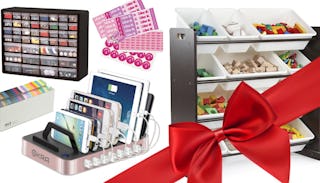 It may be your sister, it may be your mother, it may be your best friend… but we all know that one person who gets off on organization and control. Make her – or your! – holidays complete with these amazing finds…
1. Okra Universal Charging Station. Is there anything worse than charging cords all over the freaking place? This dock has seven ports for every phone or tablet, plus it's just so damn pretty! $34.97 – 56% off.
2. MT Washi Masking Tapes. Why on earth would anyone use regular tape when you can use this?! Dress up plain wrapping paper, make easy cards or just use it to, you know, attach stuff. $14.27 – 51% off.
3. Hardware and Craft Cabinet. Say goodbye to the mystery junk drawer – batteries, hardware, first aid etc. – everything has a home here. $25.73 – 37% off.
4. Labels and stickers from Mabel's Labels. One can never have too many name stickers around and this is the best time of the year to stock up. Get 40% off and free shipping on top sellers.
5. Tot Tutors Kids' Toy Storage Organizer with 12 Plastic Bins. Lego's organized by color… train tracks organized by part… blocks organized by size… it's almost too exciting for words! (Yes, we need to get out more. Obviously.) $50.99 – 27% off.
Happy shopping! And even happier organizing!
Editors may receive samples and/or a share from purchases made via links on this page.
This article was originally published on