Cynthia Nixon Announces That She's Running For Governor Of New York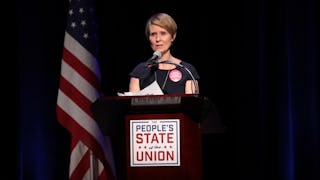 Image via Getty Images/Cindy Ord
The actress has been vocal about concerns in her home state
Another candidate has entered the gubernatorial race in New York this week, and if you're a fan of Sex and the City, she may look familiar. Actress and longtime activist Cynthia Nixon tweeted to fans on Monday letting them know she would be running for Governor of New York.
Nixon is most famous for her role as lawyer Miranda Hobbes on the hit HBO series. But now, she's throwing her hat in the ring for an even bigger role. "I love New York and today I'm announcing my candidacy for governor," the mother of three tweeted, along with a campaign video.
Nixon will be challenging Democratic incumbent Andrew Cuomo, who's running for a third term, stating that she presents a "strong progressive alternative." The video featured video of her wife, Christine Marinoni, and their lovely seven-year-old son, Max. She also has two older kids with ex-husband Danny Mozes, Charles, 15, and Samantha, 17.
The education activist will most likely have school systems top of mind. "New York is where I was raised and where I'm raising my kids. I'm a proud public school graduate, and a prouder public school parent," she said in the clip. "Our leaders are letting us down. We are now the most unequal state in the entire country with both incredible wealth and extreme poverty. How did we let this happen?"
According to CNN, Nixon served on de Blasio's advisory board for the Mayor's Fund to Advance New York City, so she's not entirely inexperienced with local politics.
She also wrote a CNN op-ed in January that was basically a call to action. "If we've learned anything during this first year of the Trump presidency, it's that the cavalry isn't coming to save us. We ourselves are the cavalry. In 2018, each one of us has to do whatever we can to take the government back. If we want change, we have to go out ourselves and seize it."
Leave it to Miranda Hobbes to cut through the nonsense and lead the charge.
Of course, Charlotte York and Stanford Blatch weighed in immediately because we all still believe they live on the same block and have boozy brunches together every Sunday:
And many others joined in to show their approval:
"We want our government to work again, on health care, ending mass incarceration, fixing our broken subway," Nixon stated. If elected, she would become the first female and first openly gay governor.
Of course, the road won't be an easy one for Nixon. She's never run for elected office before and is running against a longtime politician with more than $30 million injected into his campaign.
Still, it's been done before. "We are sick of politicians who care more about headlines and power than they do about us," she said. Amen to that.
This article was originally published on