DACA Is 'Dead' And Here's Why That's Such A Problem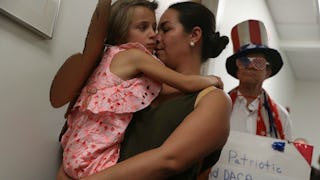 Joe Raedle/Staff/Getty
It seems we can't go a day without drama, angry tweets, and cyberbullying from our current president. The latest drama? Dreamers. You know, children. It seems no one is safe and nothing is sacred when it comes to 45.
In case you need a refresher, last September, Trump unilaterally ended DACA, with no plan to replace it. Since then, he's rejected several bipartisan proposals that would have created options for Dreamers to stay in the U.S. Yet, now he says that "DACA is dead" and he's blaming it on others. Because of course he is.
Now, before you jump up with but-they-shouldn't-have-come-here-illegally comments, remember: THESE ARE CHILDREN. They didn't choose to come here illegally. They weren't trying to skirt the law. They came with their parents, who were literally just trying to survive and keep their kids safe — as any parent would — and this is the only home these children and young adults know.
When Trump first announced that he was repealing DACA, which was created by an executive order signed by then-President Obama in 2012, it drew outrage from businesses, immigration groups, and basically anyone with a heart. Hundreds of business executives from companies as well known as Apple, Facebook, Microsoft, and Amazon immediately issued a public petition urging Trump to keep DACA.
Not only was repealing DACA one of the most ridiculous and heartless things Trump has done, but his recent comments about it are completely delusional and not at all based in reality. For instance, referring to a caravan of people from Central America on their way to the U.S., he tweeted, "These big flows of people are all trying to take advantage of DACA. They want in on the act!" Yet, in 2017, arrests at the southern border hit a 46-year low — the lowest number since 1971, according to the Department of Homeland Security.
He suggested that these people are coming to the U.S. to take advantage of the DACA program, but even if the program were still in place, to be eligible for DACA, applicants had to have lived in the U.S. since 2007, have arrived before age 16, and been younger than 31 in June 2012. So DACA wouldn't even apply to anyone coming into the U.S. now. The ignorance is absolutely staggering, I tell you.
Even though Trump keeps trying to blame Democrats for DACA's end, we all know the truth. HE KILLED IT.
According to the Washington Post, most Americans think DACA should be continued — and a majority of Americans also blame Trump and his party for ending it. Because duh, he did end it.
Let's be clear: DACA recipients grew up in the U.S. They registered with the government and submitted to extensive background checks. They give back to their communities, pay income taxes, and buy homes and cars. In fact, according to the business coalition, more than 97% of Dreamers are in school or working, and 5% are entrepreneurs who have started their own business.
Because the program allowed Dreamers the opportunity to work and study in the U.S., without DACA, nearly 800,000 Dreamers are at risk of deportation to a country they quite possibly have never really known. They likely have no place to go and no support system once they are forced to go there. Businesses are left without top-notch, productive employees. Communities are deprived of generous, hard-working kind neighbors and friends.
These are sad times indeed — and it's up to us to do everything in our power to make them better.