This Viral Dad-Baby Dance Class Video Will Put A Smile On Your Face
by Maria Guido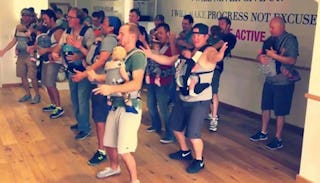 Dad-baby dance class video goes viral
GroovaRoo Dance is a dance studio in Southern California that holds some really fun-looking babywearing classes. They posted a video to their Facebook page this week that is spreading like wildfire because you just can't help but feel good after you watch it.
The studio specializes in classes that incorporate babies into the fun. What a godsend for new parents who may not have childcare but need to get moving and actually talk to other adults outside of their homes. This video was posted with the caption "This is our final "Mommy Mingle, Daddy Dance" class before the birth of our baby boy." It looks like so much fun:
How many of you remember the first time you strapped your baby into a carrier? Weren't you terrified? These classes are such a great way to get you feeling comfortable with your "extra appendage." And lord knows we need the endorphins that exercise brings after we spend a few sleepless months with a new baby.
"From our videos, it may look like we are a large school for babywearing dance, but in reality, we're just a brand new, two person "mom-and-pop" operation," Meeshi and Amber Anjali explain on their website. Meeshi taught multicultural dance for year, Amber was a birth doula. "We sat down imagined what it would look like if we married our two "passions" together. The result: GroovaRoo Dance."
"For a bunch of dads that claim they don't dance, they were "dancin' and singin' and movin' to groove" just to show these mamas how much they appreciate them. And that's the greatest love of all," they wrote next to the video. If these Daddy dance classes aren't on the schedule — they should be!