The Internet Is Loving The Way This Dad Kept A Promise To His Daughter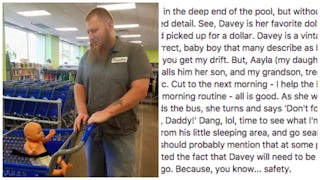 Image via Facebook
He kept his promise, even if it meant a little embarrassment
The demands kids place on parents range from the necessary ("wipe my butt!") to the ridiculous ("get the spices off my chicken!"), but we can all agree that once a promise is made, we do our best to follow through.
One dad showed exactly how far he's willing to go to make sure his kids know that when he says he'll do something, he absolutely means it.
Keenan Watkins is dad to Ash and Aayla, ages nine and ten. He recently made an appearance on the Facebook page Love What Matters when a Goodwill employee saw him pushing a naked baby doll around in a cart and decided to find out why.
Sadie Collins say Watkins, all tattooed, bearded, "Punisher" shirt-wearing 6'2″ of him, was at the store to fulfill a promise to his daughter. "When I asked him about it he told me it was his daughter's baby doll named Davey and that she wanted him to have clothes and socks so he got in his car, and drove here and bought Davey two onesies and then went to Walmart and bought him some socks as well."
Collins was struck by how well Watkins treated the doll, all in the name of keeping a promise to his child. "This man sucked up all of his pride and went out of his way to clothing shop for a baby doll just to make his little girl happy and if that's not love I don't know what is."
Watkins caught wind of the post Collins wrote and today, his own side of the story was shared on the Love What Matters page including the background of how he ended up pushing a naked baby doll around Goodwill in the first place.
A few nights ago while cooking dinner, Aayla asked her dad to take Davey with him everywhere he went the next day. Like most busy parents trying to keep up a conversation while also cooking dinner, Watkins answered in the affirmative without full realizing what he was saying. "I absent-mindedly replied 'Yes, Baby Poo, of course I will.' I then hear her become noticeably excited as she retorts 'REALLY?!!!?' It was at this point that I realized exactly what I had just agreed to, and there was no going back."
After her father said yes, Aayla decided to take her request a step further. "'Daaaaaddy? Can you buy Davey some clothes while you're out? He doesn't have any that fit him right. And will you take pictures for me?'"
So of course, he did, along with complying with another request from his daughter. "I retrieve Davey from his little sleeping area, and go searching the garage for a car seat. I should probably mention that at some point during dinner, she had interjected the fact that Davey will need to be strapped in, everywhere we go. Because, you know… safety."
Watkins then describes the scene Collins shared in her post, saying the woman helped him without judgment in picking out clothes for his safely strapped-in baby doll. He took his purchases to his favorite cashier, where he also encountered a little girl and her mom, and it was clear the child couldn't understand why a grown man was carting around a baby doll "that she could be playing with."
"Her momma exchanged happy, nonjudgmental words with me about Davey, the cashier innocently poked fun at me (a friend, I didn't mind), we got Davey a sticker, I took some more pics for Aayla, and we left."
In the end, this little trip to the store was all about a dad's love for his child– and his desire to keep the promises he makes, even if he makes them without realizing it.
"I'm just a Daddy that wants his kids to truly understand that I love them. I want them to be happy, and would gladly take on a potentially embarrassing situation, in order to keep my promise to them. Father of the year? Hardly. Father? You bet."