Dad Mistakenly Brings The Wrong Dog Home From PetSmart And Twitter's Dying Laughing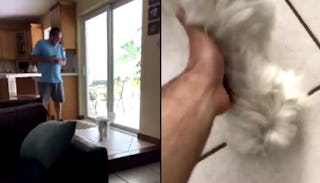 Image via Twitter/Alex
Dad's in the doghouse after bringing the wrong pup home from PetSmart
Dads can be a little oblivious, right? I know we try not to stereotype, but at least in my own personal experience, my dad wasn't nearly as aware of our lives in general as my mom, which is why I'm finding this story so totally relatable. A dad brought the wrong dog home from PetSmart, and his family and the internet (and me) can't stop laughing.
According to BuzzFeed, 10-year-old toy Maltese, Nieves, is a beloved family pet. 22-year-old student Alex explains that they've had Nieves since she was just eight weeks old, and the family adores her.
But that doesn't necessarily mean his dad can pick her out of a crowd of other pups at the PetSmart groomers, as this hilarious viral video proves.
"MY DAD TOOK MY DOG TO PETSMART TO GET GROOMED AND HE CAME BACK WITH A DIFFERENT DOG AND DIDNT NOTICE UNTIL MY BROTHER AND I TOLD HIM SOMETHING," Alex tweets in all caps. Because if ever there were a situation for shouty tweets it's when your dad brings home the wrong dog from the groomers. The video shows Alex and his brother dying laughing as the unknown pup skips around.
Alex says his dad is always the one on Nieves pick-up duty, but this time, he got a little confused, as there were two Maltese pups there at the same time. "According to him it was because the dog acted normal and followed him to the car and even jumped in as soon as he opened the door," Alex says. Poor dad thought his sons were teasing him, but later admitted something wasn't quite right. "My brother and I died of laughter and asked why he would take the dog home if he thought something was off. He said, 'I thought I was getting old and my eyes were betraying me.'"
Been there, dude.
So the family had to bid the mystery lookalike doggo adieu. "We told him he has to go back to return her, and he said, 'Yeah, I have to fix this before mom gets home,'" Alex explains. Though they did eventually tell mom and she found it just as funny as the rest of us.
But this time, Alex's dad wasn't going to be taken for a fool. He texted a photo of Nieves to the family before taking the pupper back home to make sure it was Nieves.
https://twitter.com/jetpack/status/991809775812972545
Of course, the replies were golden. As they always are.
https://twitter.com/jetpack/status/991930763745492993
https://twitter.com/jetpack/status/991866332009451520
And like, it could've been way worse.
But in the end, it was just so relatable.
https://twitter.com/jetpack/status/993622891018248192
Yep. I could absolutely see my dad bringing home a random dog of the same color and size thinking he'd done good. Luckily, this little mishap turned out to be a great and funny story instead of a tragic canine case of mistaken identity. So glad Nieves is home safe and dad is out of the doghouse, so to speak.