Dad Captures Moment Tooth Fairy 'Visits' His Son On Camera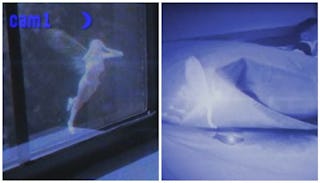 Image via YouTube
Dad catches the tooth fairy on tape for 5-year old son
Just like that, we believe in the tooth fairy again. She's real. This video confirms it thanks to a very clever dad who tracked the tooth fairy for his five-year old son.
Little James Hashimoto lost his first tooth, or rather, pulled out the barely-hanging-on tooth himself. He and his talented father, Daniel Hashimoto, decided to capture the elusive tooth fairy on tape. They posted the adorable moment on YouTube.
That tooth fairy is a sneaky little thing, but they were determined. Daniel is known for making incredible videos on YouTube using computer generated imagery (CGI) and often features his son, James, AKA Action Movie Kid, in his creations. The dad and son duo are usually hanging out with robots and going on extraterrestrial missions, but this adventure would be a little bit different.
First, they set up surveillance cameras inside James' bedroom. Then, they put his tooth under a pillow. The next morning James reviewed the footage with his little sister. Finally, after looking awhile at tape of him just sleeping he saw something.
"We caught the Tooth Fairy!" he yelled.
The video shows the tooth fairy peeking in through James' window, opening it slightly, and lifting his pillow to place a crystal holder in exchange for the tooth before she flutters away. James' adorable reaction is priceless, and we can't get enough of that smile.
I also would like to amend my own tooth fairy ritual because admittedly it feels very inadequate now. What kind of parent just puts a few coins or cheap chocolates under a kid's pillow?! Bah! So lame.
Joking aside, my own daughter lost her first tooth just last night and now I fear those chocolate coins and four bucks I proudly placed under her pillow totally suck. So I did what any parent would do in my newly found insecure situation – I showed her this video to bolster my half-assed tooth fairy skills. She happily flipped out and so now I'm proud to say the magic is very much alive in my house.
Which is important to me, as I'm sure many of us can relate to what Jame's dad wrote at the end of the video: "They grow up. But not too fast if we can help it."
[free_ebook]