Grieving Dad Helps Families Cope With A Cancer Diagnosis In A Truly Innovative Way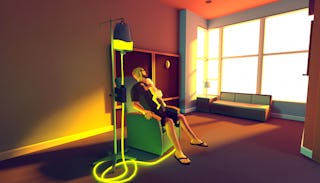 For most of us, today is just an average Tuesday, but for one dad, it also marks a milestone moment in his life. Today, on what would have been his son's seventh birthday, video game developer Ryan Green is celebrating the release of a new game called That Dragon, Cancer that explores the way his family coped with their young son's cancer diagnosis.
Green's son Joel was diagnosed with an aggressive brain tumor in 2010, just after his first birthday. He succumbed to his illness in March of 2014, and Green turned those difficult and heart-wrenching four years into a video game he hopes will honor his late son and change the way people talk about and cope with losing a loved one to terminal illness.
According to the Washington Post, the game is a two-hour guided story that takes the player on the journey of a family coping with a cancer diagnosis. Sometimes you're in control of the action — for example, when the game has the player "navigate a go-cart around a hospital hallway" or "direct a tiny Joel, dangling from balloons made of blown-up surgical gloves, as he wends through prickly projectiles representing his cancer." Other times, you're an observer and you're watching as the family goes through their trials and emotions.
Green began working on the game with co-developer Josh Larson about a year and a half before Joel passed away. Their mission to create the game was even the subject of a documentary called Thank You For Playing, which is scheduled to be released this spring.
Since Joel's death, Green has been working 80 to 90-hour weeks to have the game ready for release, and already he says he's heard from people who've been deeply touched by what he's doing. When asked by Washington Post writer Sarah Kaplan what he hopes the game will accomplish, Green said he wants it to change the world:
"I hope that people allow it to change them. Us inviting you as a friend into what we've gone through, it will allow you to share in our pain, but also share in our comfort. … I think that can take us really far. It can change how we treat each other, change how we talk about each other. Joel's story can have such rippling effects, if we start with our hearts."
While That Dragon, Cancer is strikingly different from any video game we've seen before and tackles some seriously heartbreaking issues, an early review on gaming blog Kotaku says the game is not sad. In fact, it's quite the opposite. "It's about hope," writes reviewer Patrick Klepek. "When I played That Dragon, Cancer, I thought about the people I loved."
Green has found a truly unique and incredible way to honor Joel's life and to potentially open up a far more honest and vulnerable dialogue about loss and illness than we've ever had before. His game transcends everything video games are traditionally about, and it's incredibly powerful to see someone use their talents and their experiences in this way. This game was a labor of love that will bring comfort and healing to so many people, and it's the best way I can think of to immortalize Joel's story.