Viral Breastfeeding Photo Lands Firefighter In Hot Water
by Megan Zander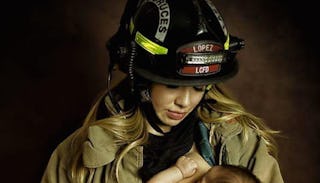 A firefighter is under investigation for letting his wife wear his uniform in a breastfeeding photo
Another day, another photo of a breastfeeding mom being criticized by people who are offended by the sight of a baby feeding. But this time it's not mom who's getting the heat – it's dad, and he may just face major fall out at work because of it.
You may recall a powerful image of a mom breastfeeding her baby while wearing a firefighter's uniform that recently went viral. Photographer and former military mom Tara Ruby took the picture as part of her well-known portrait series called the "Uniformed Breastfeeding Portrait Collection". Ruby enlisted the help of a firefighter from Las Cruces, New Mexico, his wife and their baby to create the picture, which is one of the most popular from the series.
Despite the fact that Ruby's photos have drawn support from all over the world, the dad firefighter who lent his wife his uniform for the photo shoot is allegedly under investigation and may face disciplinary action. "Depending on the specifics of a situation, it may or may not be a violation of (city) policy," said city spokesman Udell Vigil to Las Cruces Sun-News. The fire department's uniform policy doesn't say specifically if spouses are allowed to wear uniforms, nor are there clear rules about when a firefighter may be photographed in uniform.
What a load of crap. Officials apparently have no problem letting kids try on firefighter uniforms during firehouse open houses or at fire safety demonstrations. And if being photographed in a uniform when you're not actually a firefighter is a crime or violation of some sort, then there are a shit ton of Halloween pictures that I need to delete immediately, and I know I'm not the only one.
But no fire chief is running to the media each October outraged that college co-eds appropriate the uniform in various barely-there forms on Halloween. It's only when we create a powerful image portraying what being a firefighter looks like as a breastfeeding mother that we've somehow we've gone too far.
Sure, police officers and firefighters are people who civilians turn to for help and therefore there's a legitimate safety concern in wanting to prevent any random person from tossing on a uniform and impersonating a police officer or firefighter. But no one is at risk of asking for help from a photograph. This image is designed to show the power of working moms and support moms who work while also breastfeeding. Let's just call this what it is – the utter and completely bullshit that is being offended by the image of a breastfeeding mom in uniform.
Ruby has weighed in on the controversy and feels the firefighter should not be punished for allowing his wife to borrow his uniform for the image. "My question back to the Las Cruces Fire Department would be: What's the difference between a son walking around with a fireman's uniform on at an event?" she said to Las Cruces Sun-News, "If the firetrucks come out, they let the kids try on the uniforms. They put the uniforms on, walk around and people take pictures of them."
Yeah, what is the difference?
This article was originally published on