Dad Books 6 Flights So His Flight Attendant Daughter Won't Be Alone On Christmas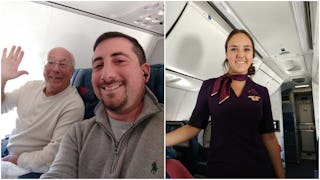 Images via Mike Levy / Facebook
This flight attendant has the sweetest dad who thought of the best Christmas gift
While Christmas is widely accepted as a time people should be spending with their families, that just isn't always possible. Some people just have to do their jobs. We've gotten pretty good at recognizing the sacrifice made by people like doctors, police, and firefighters. But one person most of us have probably overlooked who has to work on holidays? Our flight attendant.
Hal Vaughan, whose daughter Pierce Vaughan is a flight attendant with Delta Airlines, certainly didn't overlook his daughter's work schedule on Christmas. Pierce was scheduled to work on six different flights on Christmas Day and the day after, so she wasn't able to be with her family. So Hal grabbed a seat on each and every one of those six flights so he could spend Christmas with his daughter. Six flights. Flying once on Christmas is a pain, but six times? That's true dad love, folks.
Mike Levy was seated next to Hal in First Class on their flight from Fort Myers, Florida, to Detroit, Michigan. He snapped a selfie of himself and Hal, as well as a photo of a smiling Pierce, and uploaded both to Facebook, where his description of this dad's sweet Christmas deed went viral.
"I had the pleasure of sitting next to Hal on my flight back home," Levy wrote. "His daughter Pierce was our flight attendant who had to work over Christmas. Hal decided he would spend the holiday with her. So, he is flying on each of her flights today and tomorrow around the country to spend time with his daughter for Christmas. What a fantastic father! Wish you both a very Merry Christmas!"
Levy was shocked at how quickly the story spread.
"I'm happy to share such an amazing story," he told Scary Mommy. "And I never thought it would get this big, didn't think I would have 10 shares let alone this!"
His post even got the attention of Pierce herself, who shared it, writing, "Dad's first trip using his benefits was a success! A special thanks to all of the patient, wonderful gate agents around the country and my perfect crew. He made it on every flight and even got first class RSW-DTW (Christmas miracle). [Shout-out] to Mike Levy for being a great first class passenger & helping us to understand how cool this actually is!"
We're sure the Vaughans had a wonderful Christmas in the sky. With a dad like that, the holiday can only be great.
This article was originally published on