Here Are All The Gifts To Buy Him That Are Really For YOU
by Team Scary Mommy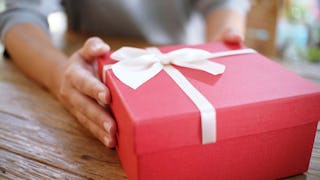 Sirijit Jongcharoenkulchai / EyeEm
How did moms end up in charge of getting our own gifts from our spouses? Just pile it onto the list of people we have to buy for like the mailman, all the teachers, the trash guys, and DO NOT forget the pediatrician — you want her to squeeze your kids in when they have a strange rash, right?! If I gotta get my gift for you then your gift is for me too, sucka.
So here's the rundown of the best gifts for him that are actually for you.
Omaha Steaks
You can order gorgeous steaks for the entire week and even throw in sides and a desert. Bonus: It's all delivered to your door. Yes, dinner in a box that he actually wants to cook and eat. You'll have a delicious meal and night off from the mental workload of figuring out dinner. They also have surf and turf options when you want to get fancy AF. It's like you went out to dinner, but you didn't have to put on Spanx. For a limited time, Scary Mommies can also get 45% off plus free shipping.
A New Work Bag
Is it boring? Maybe, but is it practical? Yes. Listen, if your husband is like mine he needs a new freaking backpack. He's got lunch and maybe one or two important papers, but that doesn't mean he shouldn't carry them in style. Try upgrading to a sweet satchel or even a mildly fancier backpack. Just make sure the zippers work and no keychains. You might not think this gift is for you, but you'll enjoy looking at him all grown up for a change.
An Experience
Don't get "things," get experiences, right? Bottom line: Everyone needs a night off, including your spouse. So why not gift him tickets to his favorite band or a stand-up comedy show? You'll have some drinks and some laughs and remember what it was like to date again. You both get a night off, and after this holiday season, lady, YOU DESERVE IT.
The Couples Massage
You can pretend it's for him all you want — this one is all YOU. Hey, if he spent the past four weeks bent over the dining room table wrapping presents, he'll need a massage as well. If he didn't, then he'll accept this gift graciously and like it.
We are a participant in the Omaha Steaks Affiliate Program and may earn fees by linking to omahasteaks.com.
This article was originally published on