This Father's Intuition Helped Him Find His Missing Son Alive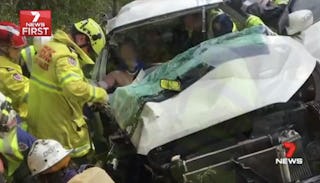 Image via Twitter/News 7
Instead of listening to police who believed his son had run away, this dad hired a helicopter to find him
An Australian father went with his gut when it came to his missing son, and thankfully, it paid off.
Instead of listening to police who suggested his 17-year-old son Samuel had simply run away, Tony Lethbridge took matters into his own hands when it came to finding the teen. He hired a helicopter to search for him, as the dad suspected his son had been in a car accident.
And he was right.
After a night out with friends this past Saturday, Samuel didn't return to his family home at Lake Macquarie. His father thought it might be due to a car wreck occurring after the teen had dropped off a friend, and as it turned out, the boy had been trapped under his vehicle for about 30 hours when the helicopter Tony hired to find him located the scene of the accident.
According to CBS News, the car was found in the brush off a highway only 12 miles from the Lethbridge's home. Emergency personnel were able to cut Samuel free from the wreck and he's now in intensive care with multiple fractures.
But he's alive.
"When I saw the police, they thought he'd run away. I said that's not Samuel. When he doesn't show up or phone, something's seriously wrong," Lethbridge told the AP.
"I understand that they've got a lot to do and they hear this every day, but I took matters into my own hands and was thinking all night that tomorrow morning, I'm just going to get a helicopter and go looking for him because we're running out of time – it's been long enough," he said.
The dad paid around $797 ($1000 in Australian money) to hire a helicopter to search the area for his son with the boy's uncle, Michael Lethbridge, on board. Tony is prone to air sickness so he stayed on the ground. The wreckage was spotted within 15 minutes of looking for it.
Of course, the dad has no regrets about paying for the helicopter to find his son. "It's priceless. If it's a $1000 I've got to pay to get his life, I'm OK with that."