Dad Holds Up Ruthless Sign At NBA Game To Teach Son A Lesson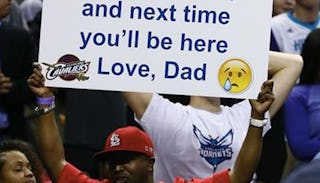 Image via Imgur
Dad uses savage sign to motivate son
Sometimes parenting requires tough love, but it's not always easy to deploy. One dad delivered in savage fashion when he went to a basketball game and his son didn't.
A Reddit user posted an image of a dad sitting court side at a Cleveland Cavaliers game, holding up a sign that is equal parts monstrous and motivational.
The sign reads: "Thomas get your grades back up and next time you'll be here" and includes both a Cavs logo and sad face emoji.
If you're wondering if Thomas saw the sign, we can't be sure, but odds are pretty good. Because even if he wasn't watching the game on TV that night, the image has been making the rounds online after it was posted on Reddit with the title "Dad of the year candidate at the Cavs vs. Hornets game."
We have precious little information about Thomas and his dad, but the picture speaks pretty clearly. Thomas and his dad must have had plans to attend the game together, but Thomas wasn't pulling his weight in school. It also must have been a punishment thought out in advance, as this dad didn't just bust out a Sharpie and poster board — he had it printed.
Brutal.
The good news is, the sign says "get your grades back up," a clear indication that Thomas has performed well in the past, and may simply be in a slump. Maybe Dad has been trying a bunch of tactics and none of them have worked. Maybe this was a last resort, pulling a ticket that Thomas had been promised, in an effort to show him that there are consequences for our actions.
A kick in the pants from a taunting sign that is now going viral might be just the motivation he needs.
In the age of social media, we see a fair amount of questionable parenting tactics. Some parents lean on humiliation and public shaming a bit too much.
But I feel like Thomas's dad handled it pretty well. He's not broadcasting his son's face, nor being needlessly specific about the infraction. Furthermore, a basketball game is a luxury – it's not exactly on Maslow's hierarchy – and Dad has every right to withhold something special to drive home a necessary point.
Getting the best behavior from our children often requires balancing the use of the carrot and the stick. Thomas's dad is wielding both at once. He's punishing his son by keeping him from the basketball game, but simultaneously promising him that if he gets his grades back up, he'll be right there next to him.
I'd like to suggest that when Thomas does make it to the arena, he bring a sign of his own? Maybe one that says "Thanks Dad!"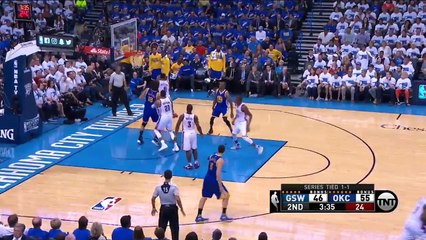 This article was originally published on