Dad-To-Be Killed By Explosion While Building Gender Reveal Device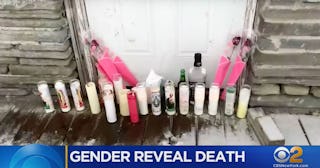 CBS New York/Youtube
Yet another gender reveal involving an explosive device has turned deadly
The entire concept of gender reveal parties is bizarre. I mean, gathering your friends and family so you can announce to them what your baby's genitals are presumably going to look like? Pretty weird, TBH. But in the last few years, these parties have gone solidly too far. Now, they're all about creating a spectacle for social media, and it's causing parents-to-be to engage in dangerous stunts that have cost multiple people their lives.
The latest of these is Christopher Pekny, a 28-year-old father-to-be from New York. Police say he was building an explosive device for his unborn child's gender reveal party, when it exploded, killing him and injuring his 27-year-old brother. State police and a bomb disposal unit have reportedly been investigating the incident, which happened in a home in Liberty, New York.
Police have not released any details about what kind of device Pekny was building. They have said that there are currently no charges being filed related to the explosion.
"It has been two nights in a row of not being able to sleep, waiting, hoping to hear that this is all some crazy misunderstanding," Peter Pekny, the dad's oldest brother, told reporters. "But we all know that's not the reality here."
He added, "He was finally ready to settle down and he was so happy to be a dad. He was just this big kid, ready to be a man. And this shouldn't have happened."
This is far from the first time, even recently, that a gender reveal party gone wrong has resulting in a death.
Just a few weeks ago, a Michigan man was killed at a gender reveal party that featured a canon. He was struck by shrapnel that flew 10 to 15 feet away from the canon after it malfunctioned. He later died at a local hospital from his injuries.
In 2019, an Iowa couple held a gender reveal that also featured an explosive device. Officials say the explosion caused a piece of debris to go flying, and it struck and killed a 56-year-old woman who was attending the party.
And who can forget last year's massive El Dorado wildfire in California? It was sparked by a gender reveal device and ended up spreading over two counties, consuming more than 21,000 acres, and killing a firefighter.
Gender reveal parties make no sense, and they're also proving to be increasingly dangerous. Let's leave them in 2020 where they belong.