This Man Live Tweeting HIs Dad Destroying Him At Scrabble Will Make You LOL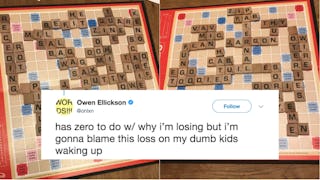 Image via Twitter/Owen Ellickson
It's not Christmas without being publicly humiliated by Dad
It takes a lot of guts to post this kind of humiliation on the internet for all to see. Owen Ellickson, a dad from Los Angeles, has a holiday tradition: He plays his dad at Scrabble and loses absolutely spectacularly every time. And Ellickson live tweets the whole experience so we can all laugh along as he gets utterly destroyed by his dad over and over and over.
The live-tweeting started last year on Thanksgiving, when Ellickson admitted he's never won a match against his old man.
He shared updates after each turn, showing he and his dad playing some pretty damn impressive words, like "vouches," "nautical" and "yupon." If you didn't know "yupon" was a word, you're not alone. These two really bring their A-game.
In the end, Ellickson's dad wins that game by well over 100 points.
Over the Thanksgiving holiday, they had a few rematches, which Ellickson also live tweets. Unsurprisingly, he never wins. Also, his dad is savage at smack talk.
Ellickson got over a year's break from being humiliated at Scrabble, but this Christmas, he and his dad were ready for another rematch.
It went about as well as you'd expect it to, based on their history.
At this point, Ellickson is ready to blame anyone and anything for the absolutely crushing defeats handed to him over and over by his dad.
Luckily, the end was near.
Somehow, though, Ellickson just keeps coming back. He's truly a glutton for punishment.
At least that time he managed to lose by less than 100 points, though barely.
Even using heavy Christmas food as a weapon doesn't give Ellickson the upper hand.
Still, Ellickson isn't giving up. He's already planning his next attempt.
It's the traditions that really make the holidays special. This tradition, though hilarious for all of us internet onlookers, is a pretty brutal one for this guy. Here's hoping he manages to win a game someday, but as of now, we don't like his odds.