Dad's Disney Costumes Are Going Viral Because His Skills Are Insane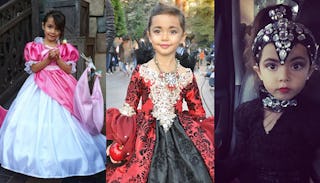 The enchanting costumes start at $500 for kids and $1,800 for adults
A California dad makes Disney costumes for kids that are elaborate works of art. His designs are so popular that making the enchanting pieces has turned into a new career for the father of three.
Nephi Garcia is a 32-year-old high-end fashion designer who started making his spectacular creations for kids nine years ago. "Once I had kids, it started to feel like the industry wasn't really working for me," Garcia explained to BuzzFeed. Since then his designs have gone viral. Disney lovers flock to Garcia for his costumes, which start at $500 for kids. He uses mostly organic silk shipped from Europe. "I don't charge cheaply, but I also don't deliver a cheap product," Garcia shared.
His 6-year-old daughter Lili is the lucky kid who gets to wear the elaborate designs, like this Cinderella one.
And how cute is this Snow White?
Here's Lili in her second Cinderella costume that is out of this world. "I altered the birds' wings to make them look like they were flying," the dad said of this magical design. Garcia used fake birds and wire to create the veil. Her little brother makes an adorable Prince Charming.
And here is the costume that helped Garcia become a viral sensation. He made it out of scraps of fabric for Lili and when the youngster got to Disney World people loved the Fairy Godmother dress. Some theme park guests even asked for her autograph – a sign that Garcia's designs were perfect for Disney character actors. "The following day, I got an order for 10 costumes," the dad said.
What kid wouldn't love having their own Beauty and the Beast ball gown?
Just when you think this dad's designs can't get better, you find out that the ball gown is hidden within Belle's everyday fit. "Lili really loves the transformation dresses," Garcia explained. "I try to make costumes that go outside of the box." Make sure to press play below to see the full transformation.
And for the Disney lovers who've aged the dad has some pretty impressive creations for you too. The adult dresses can take from 12 to 48 hours of work and start at $1,800.
Garcia's Instagram is flooded with sweet family shots and amazing new designs. Making the kids' costumes has also helped the father find his true calling in the design world. "I hope that someday I can make costumes for Broadway shows or live-action movies," he shared. "But I will never give up making pieces for people who are not in the industry — I like to give them quality outfits that they can't get anywhere else."
This article was originally published on