This Graduation Gift Takes Your Kid's Whole Childhood To Make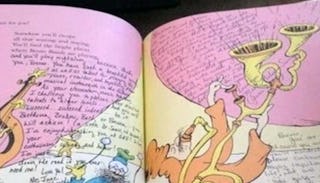 A graduation gift one father gave his daughter is quickly going viral
If you have young children, the thought of them graduating high school is so far off you may not even be able to imagine it. But after seeing this father's amazing gift to his daughter at graduation, you might be moved to start planning for their graduations now.
Brenna Martin received such an amazingly thoughtful gift from her dad at graduation, she decided to share his idea with the world. She sent her story to the Love What Matters Facebook page, where it quickly went viral.
"I graduated High School this week. When my dad said he had a present for me I thought I was getting some cheesy graduation card. But what I received was something truly priceless," Martin writes. "Following the ceremony he handed me a bag with a copy of 'Oh The Places You'll Go' by Doctor Seuss inside. At first I just smiled and said that it meant a lot and that I loved that book. But then he told me, 'No, open it up.'"
"On the first page I see a short paragraph written by none other than my kindergarten teacher. I start tearing up but I'm still confused. He tells me, 'Every year, for the past 13 years, since the day you started kindergarten I've gotten every teacher, coach and principal to write a little something about you inside this book.'"
Martin continues, "My early teachers mention my 'pigtails and giggles' while my high school teachers mention my 'wit and sharp thinking.' But they all mention my humor and love for life. It is astounding to receive something this moving, touching nostalgic and thoughtful."
This father handed his daughter a reminder that every year, he was thinking about her future — about her adult self who would absolutely cherish a gift like this. You can't "buy" a gift this precious. It was cultivated with years of love.
What a cool idea. Any parent could easily start a project like this by just getting their hands on a book that has some significance to their child. The pages could be filled with writing from friends, teachers, or even a personal diary from yourself to your child. Who would't love to receive a gift like this? Or be able to give one?
Good job, dad.
This article was originally published on