Stranger Snaps A Photo At Disney And Save's A Father's Life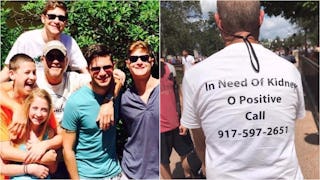 Images via Facebook.
Dad asked for kidney donation on t-shirt
A father of five has a new kidney and a renewed lease on life thanks to a clever t-shirt and the power of Disney. After years of dialysis, Robert Leibowitz simply asked for a kidney donation on the back of a shirt then wore it to the happiest place on earth.
We learned about Leibowitz last summer when he was visiting Walt Disney World in Orlando, Florida with his kids. "I am a single dad. I love them more than anything in the world, and they are my rocket fuel," he told reporters. "That's what keeps me going." So he came up with a clever idea for a t-shirt that he could wear at the uber-popular theme park. It read: "In Need Of Kidney O Positive Call 917-597-2651." Since Leibowitz is an O positive, he could only receive a kidney donation from a person who is also O positive. He told The Washington Post, "Where else am I going to get more exposure than Disney World with hundreds of thousands of people walking around every day?"
Rocio Yanira Sandoval was at Disney the same day with her husband Juan, who noticed Leibowitz. "Juan asked if we could snap a picture to share online, this man turned around with the biggest smile, so grateful and said 'Yes, please!' He gave us both a hug and said 'Thank you, please share this with the world,'" Sandoval explained. She shared it on Facebook, where it went viral and led to news coverage all over the world of Leibowitz and his search for a kidney. The calls from strangers wanting to help started to flood in. "The response has been absolutely amazing. I get very emotional about it," Leibowitz explained at the time.
Despite the overwhelming response to his plea for a new kidney, finding the right donor was still a struggle. About 50 folks were committed to the organ donor process, which involves blood and tissue tests, psychological screenings, x-rays, and several other medical evaluations. That number was reduced to three, all of whom turned out to not be ideal matches for Leibowitz. Thankfully, Richie Sully, a single dad of two daughters, heard about the man who needed a kidney and reached out. Sully was a match, and Leibowitz's four-year wait was over. "I called my kids, and my kids broke down," he shared. "It was such a feeling of relief and happiness."
After a tour of New York for Sully led by Leibowitz, the men prepped for surgery that happened earlier this month at New York Presbyterian Hospital. It was a complete success for both dads, and each went home to their families a few days later. "It's not a big deal," Sully told news station PIX 11. "If we could get people to understand how much of a big deal it's not, we would have so many more donors." Both men hope the extra attention will help people understand that kidney donors live long and healthy lives. "Everybody has two kidneys," Leibowitz said. "You have a spare. Share your spare."
There's a great need for donors in the United States. About 12 people a day die waiting for a kidney transplant, and there are more than 101,000 people in America who are waiting for a transplant, according to the National Kidney Foundation. Leibowitz has a message for those still waiting for their donor match: "Don't give up hope, your time will come. You have to stay positive."