Maybelline's First Male Model Shuts Down Troll, With Help From Dad
by Megan Zander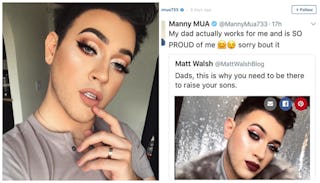 Image via Instagram/ Twitter
Manny Gutierrez's father pens open letter in support of his son's career as a makeup artist
It's 2017, and major brands are finally starting to recognize that some men wear and look amazing in makeup, too. CoverGirl recently announced social media star James Charles as their first CoverBoy brand ambassador. Maybelline's right there with them, with the recent announcement of makeup artist and Instagram sensation Manny Gutierrez as the brand's first male ambassador.
Gutierrez is obviously thrilled with his new role, and has been getting plenty of positive feedback and support. But Matt Walsh, a conservative Christian blogger who calls himself a "political incendiary" because he thinks it sounds better than "professional troll" just had to be an asshole.
Gutierrez wasted no time issuing a response that was classy, yet as fierce as his eyeliner.
Gutierrez's father couldn't help but stand up for his son. He wrote a heartfelt letter in support of Gutierrez and asked him to share it with his followers so there was no question of his father's opinion on his chosen career path.
"I've always been there for my son and will ALWAYS be there for him," the letter said, "Not only am I proud of what he has accomplished but I'm more proud of the person he has become."
"I know the words you speak are from lack of knowing anybody from the LGBT community," the note goes on, "If you did, you would soon realize they are some of the most real and kind hearted individuals that walk this planet of ours."
It's obvious from the classy way that both father and son handled this situation that dad is very much a huge and positive influence in his son's life. Shame on Walsh and anyone else who holds such a narrow-minded view on gender roles. Gutierrez said it best himself:
This article was originally published on