This 'Dad Outfit' Twitter Thread Is The Purest Thing On The Internet
by Cassandra Stone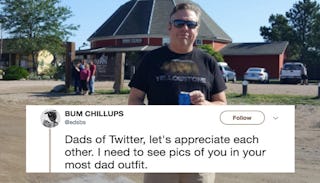 Image via Twitter/@edsbs/@RandBallsStu
These 'dad outfits' are here to remind you sometimes Twitter is amazing
We talk a lot about moms and their daily uniforms of yoga pants, messy buns, and stained t-shirts. But this viral twitter thread is all about the dads — because let's be honest, all parents default to some pretty sad attire sometimes. So let's celebrate the Dad Outfits in all their Dad Glory, shall we?
Twitter user @edsbs requested a little dad outfit appreciation, and dads everywhere answered the call. Warning: Cargo shorts, white sneakers, even whiter legs, sweatpants, baseball hats, and cans of beer ahead.
"Dads of Twitter, let's appreciate each other. I need to see pics of you in your most 'dad' outfit."
Dad level: intermediate.
Cargo shorts AND a jersey? This is almost Dad Overload. Especially when you factor in the Dad Shades perched atop the Dad Hat.
The can of beer is the perfect accoutrement to this dad ensemble. (Also, peep the entire family taking a selfie stick pic in the background — perfection.)
As the daughter of a man in his fifties who truly loves a good medallion and open-collared shirt, I support this look.
Let's just take a minute to applaud Jeff over here, doing the Cheer Dad thing with pride and confidence.
"Can't see the New Balance shoes." LOL. Are you really even a dad if you don't rock the NB's?
Lots of Dads showed up in the thread with their Father/Child matching gear, and honestly — so here for it.
And then there are, of course, the Too Cool For School Dads.
Okay, that caption deserves an award or something. Self-Deprecation FTW!
We see those apples. And we do, in fact, like 'em.
https://twitter.com/jetpack/status/979697794511458305
The Beleaguered Dad Look is the ultimate Dad Look.
See? This guy's perfected it.
Can we all agree that this guy doesn't look Peak Dad at all, but instead dresses the way we wish our own dads/husbands dressed?
There you have it, folks — there is some seriously epic dad-ness going on here. Plenty of moms can relate — I know working from home for me means three days will go by before I realize I can't remember the last time I wore a real bra or plucked my unibrow, so this entire thread was such a delight to scroll through.
We all know and love at least one of these Classic Dads™ — and life just wouldn't be the same without them and their rumpled t-shirts.
This article was originally published on