Dad Passes Away Minutes After He Dances With His Daughter At Her Wedding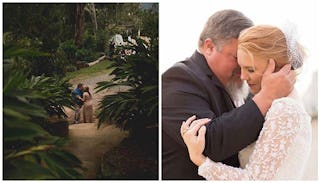 Image via Facebook/ Katie Donnelly Photography
Family urges others not to ignore signs that something is wrong with their health
Tim Buchanan got to see his daughter married and enjoyed the milestone many dads look forward to: dancing the father-daughter dance at her wedding. Minutes after that moment, he had a heart attack.
"Family was the most important thing to him, to the point that he ignored his body telling him something was wrong," his wife Jeni posted after news of his death and the circumstances around it started to spread. "He should have gone to the doctor, but he was afraid that he wouldn't be able to attend our daughter's wedding. Every one of us wish he was still here and hadn't ignored the signs that something was wrong."
Parents are especially guilty of pushing their own health needs aside so they can be there for others. This is absolutely heartbreaking. "If there is anything you can do for us, it is to take care of yourself and your loved ones. If we can save just one life with our tragedy, then he can be a hero one more time," Jeni writes about her Detective husband.
She took to social media to express thanks for all the notes of sympathy coming in, and share a beautiful photo that was snapped earlier in the day.
"You never know when the last time will be the last time," she captioned the photo. "I am so very grateful for this image of us that our dear friends Kelly Rae Stewart and her husband snuck during our daughter's wedding yesterday. Little did I know just a few hours later we would lose him."
Jeni implored those following her story to take care of themselves:
Such an important message. The couple was clearly madly in love. Here's an image of their vow renewal in Paris in 2014, after 20 years of marriage:
A friend of the family started GoFundMe campaign to help Jeni take time off from her job as a wedding photographer. The campaign has almost reached its $20,000 goal.
This article was originally published on