Best Dad Ever Passes Out Candy To Everyone On Flight So 3-Year-Old Can Trick-Or-Treat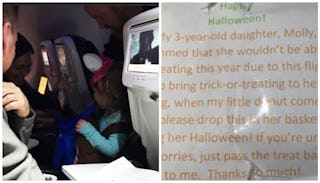 Image via Twitter/ Stephanie Kahan
Image of 3-year-old trick-or-treating on a flight goes viral
What do you do when you're flying with your three-year-old on Halloween night? You bring Halloween along, dammit. That's one what father did, and he's won the internet's heart.
Stephanie Kahan was on a flight from Boston to San Francisco when she was passed a note and some candy. She was so touched by the idea, she tweeted it. That was last night at around 10pm ET. It's been retweeted nearly 60 thousand times since.
"OMG, my heart is exploding right now. Dad of the year just passed out candy to everyone on the flight so his 3 year old could trick or treat," she tweeted.
The little girl was dressed as a donut, and everyone better have grabbed their candy and participated. When a three-year-old says "trick-or-treat" — you give her candy.
The letter dad passed around said, "My 3-year-old daughter, Molly, was bummed that she wouldn't be able to go trick-or-treating this year due to this flight… so I decided to bring trick-or-treating to her. If you are willing, when my little donut comes down the aisle, please drop this in her bucket. You'll be making her Halloween! If you're unwilling, no worries, just pass the treat back to me. Thanks so much!"
Translation: if you hate joy and the delight of a small child, you can't have my candy, Grinch. Here's his little donut making her way down the aisle:
This is melting cold hearts, everywhere. A cute distraction on an otherwise boring flight, and since Kahan's tweet has gone so wildly viral, this little girl is going to have lots of cool stories to look back on when she's older to remind her how cool her dad is. Should come in handy when she's a teenager and mortified by every, single thing he does.
[free_ebook]
This article was originally published on