Dad Builds Over-The-Top Playhouse You'll Want To Move Into
by Cassandra Stone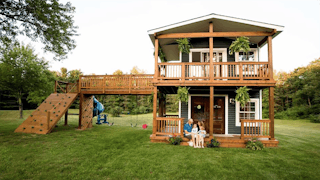 Image via Rachel Goldsworthy/Flashes of Light Photography
This playhouse looks like an HGTV dream house, but for kids
There are playhouses, like the requisite Fisher Price models we've seen in every neighborhood for the past two decades. And then there are playhouses, like the exquisite and extremely impressive two-story model this dad built for his two daughters.
Adam Boyd, a super talented dad and president of ATB Building in Michigan, built a playhouse so incredible, it will make you want to pack up and move right in.
First of all, it's two stories. As in, there's an upstairs. Oh, and two porches complete with hanging baskets.
"I wanted to do something special, something they would be proud of and one day tell their friends that their dad built this for them," Boyd told PEOPLE. "I got to a point where I just asked myself, 'Why stop now?'" Boyd is the proud dad to Avery, 5, and Violet, 2.
No kidding. It's like something out of HGTV. If Joanna Gaines ever designed a playhouse, this would be the one. Except instead of endless shiplap and "farmhouse white" walls, this little beauty has a purple interior.
And, you know, crown molding. Which Boyd says his older daughter helped him with. "That was the most rewarding part of it," he said of the daddy/daughter bonding time. "She was sanding the crown molding with me. She loved it," he told ABC News.
What child wouldn't be in absolute heaven playing inside this dream every single day? That table alone is nicer than my first two or three Goodwill-purchased dining room tables as an adult.
Boyd's sister, Rachel Goldsworthy of Flashes of Light Photography, snapped these beautiful photos of her nieces enjoying her brother's hard work.
Boyd tells ABC News he's received so much positive feedback from the World's Greatest Playhouse, he's planning on starting a business called "Spoiled Rotten Homes" that builds — you guessed it — "over-the-top playhouses for children."
"Here is the playhouse I built for my daughters… I would love to do it again for another family to enjoy!" Boyd wrote on ATB Building's Facebook page.
In case you thought this house didn't boast enough personal touches (kidding), this proud dad left a permanent mark of his own in the house he built for his girls.
This article was originally published on