Man Reminds Fellow Dads That Moms Need All The Naps, Dammit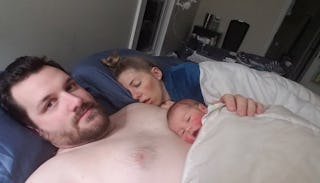 Image via imgur
Dad's honest photo encourages other fathers to help out and be "dream husband" for partner
An adorable dad posted a photo this week with a message to other new fathers. In it, he urged dads to pitch in, help out and let new mothers get the rest they so desperately need. We're not sure when the next issue of People's 'Sexiest Men Alive' comes out, but this guy may be a front runner.
Imgur user avidclimber snapped the picture of his snoozing wife with the caption, "After winning a battle with testicular cancer last year we finally got our first born son," his baby fast asleep on his chest, looking exactly like his sleepy mama. He went on to say, "Real men take care of their baby while mommy takes as many naps as she needs."
It seems based on the comments he is receiving, he is an inspiration not only for parents, but for some also battling cancer:
"Fighting TC myself, bro. Just finishing my 2nd day of chemo. Congratulations to you! Stories like this are exactly what I need now!"
"Seeing parents work together (something I never got to experience from my own) makes me hopeful for your sweet baby. Thank you."
"Congrats on winning over cancer, producing an offspring, not shying away from Skin on skin contact and taking care of madam."
But, this one may be our favorite:
"Congratulations. Also, your baby looks like a tiny beardless santa."
Of course, anyone who knows a woman had a few things to say on her behalf for snapping a sleeping selfie:
"She is so going to bruise you for posting her sleeping."
And of course, it's the Internet, so you are always going to get one of these. Sigh.
"You're baby has got some red cheeks… might want to make sure the little fella isn't either too hot, or getting an imbalance of vitamins."
Anyone with kids knows what a blur those first months can be. When I went to make my son's six month checkup appointment, the nurse on the other end of the phone said "date of birth?" and I froze. "Hello," she said. "No, I'm here. I, it's just I can't remember." She laughed and said if I could just give her the month he was born, she could probably find it from there. "I know it was in the summer. It was warm," I stammered. I could not for the life of me even recall the calendar month he was born. I'm with this dad, let the mom get all of the naps.
His post comes the same week Mom blogger Sophie Cachia made an impassioned plea for dads to capture these moments of moms with their kids. "We spend days capturing beautiful moments of you and the kids. So whenever you see one of us with our babies, a beautiful candid moment, take the bloody god damn photo," Cachia said.
Both photos remind us how powerful a candid, raw image can be. Childbirth is draining and emotional and unlike anything you've ever experienced. So take this dad's advice, "She's been through an ordeal! Suck it up guys and be her dream husband!"
This article was originally published on