Dad Runs Marathon Pushing An Empty Stroller To Honor His Stillborn Son
by Meredith Bland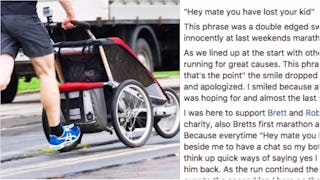 Image via Shutterstock/Facebook
Dad runs race to raise awareness about stillbirth and honor the son he lost
At last month's Sunshine Coast Marathon in Australia, one man lined up for the race with an empty stroller. A woman looked over, laughed, and said, "Hey mate, you've lost your kid!" To which Troy Austin replied, as he would many times that day, "Yes, that's the point."
That's because Austin's son, T.G., was stillborn a year and a half ago at 27 weeks.
In January of 2016, the Austins, who were expecting their first baby, went for a standard ultrasound. That was when they learned that, at 27 weeks, their baby boy no longer had a heartbeat. Troy's wife Kelly delivered T.G. a few days later.
In his Facebook post about the run, Austin noted that he ran the race with two friends, Brett and Robert, who helped answer questions when it became too much for him. "As the run continued the onslaught was relentless," he wrote, "crossing over to the second lap I hear on the loud speaker….'Here comes old mate and it looks like he lost his kid.' More giggles from the crowd."
It's difficult to imagine how he kept going. Even though getting asked those questions was the point of his run, hearing "You lost your kid" over and over again must have been almost unbearable. But Austin adjusted his perspective on the question to help him get through it: "The thought which helped me, though, was telling myself that every time that phrase was yelled out, they were acknowledging that I lost my son…Parents that have lost a child want to hear their children's name, they want to know they are counted."
"They were acknowledging that T.G. was my boy."
"You go to the hospital to give birth, knowing that your bub isn't coming home to his room. His clothes are not needed, his cot is an empty space…We smiled through the heartache because we had our first child, we were a family," Austin told The Daily Mail. The couple held their baby until the sun came up the next day.
As too many families know, the pain of losing a child to miscarriage or stillbirth can be overwhelming. That loss of a life that was to be and will never come is excruciating, and never fully leaves you. "My grief comes in waves," Austin said, "You will be doing something and just get sad, you try and remember holding your son, you wonder what you would be doing."
Austin, a triathlete, used the sport to help him cope with T.G.'s death, competing in the Long Course Triathlon Nationals, Ironman New Zealand, and the World Age Group Championships in the year after his son's burial. His wife has kept their son's memory alive through gestures such as putting a small giraffe at his spot at the table during family events.
An image of two giraffes — one large and one small, standing shoulder to shoulder — serves as the logo for T.G.'s Legacy, the charity the Austins established to raise awareness and support other families who have lost a child through stillbirth. And it was awareness Austin was aiming for when he chose to run the Sunshine Coast Marathon with an empty stroller and no signs explaining why: "I specifically didn't put a sign on the pram so questions would be raised," he said. "I just didn't realize how many questions would be raised."
The Austins welcomed T.G.'s little brother, Samuel, in May. They note, however, that the addition of Samuel doesn't replace the loss of T.G. Said Austin: "It is like a parent saying 'Our child died at school today, but that's okay because we have a good one coming through the ranks'…that does not take away from how much we miss his big brother and never will. We will never forget T.G., for he is our son."
T.G.'s Legacy raised about $6,000 last year. So far, they have raised over $2,000 of their 2017 $5,000 goal.