Dad And Kids Spend A Year Painting 1,000 Rocks For Best Game Of 'I Spy' Ever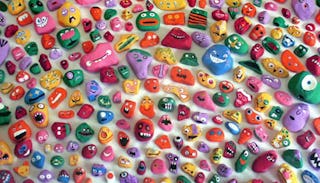 Image via Aaron Zenz
The rocks were hidden across the city for the massive "I Spy" game
A family who loves art has created a seriously cool project that everyone in their city can enjoy. A Michigan dad and his six kids painted about 1,000 rocks over the course of a year then hid half of them in various spots across Grand Rapids creating a giant game of "I Spy."
Aaron Zenz is an incredible artist and dad. Alongside his kids, he's been creating family-friendly art for years. Their latest project, titled "Rock Around," is an entry for an ArtPrize competition and it took the family's creative activities to a whole new level. "We blew it up HUGE! In the past, we'd only painted about 40 objects for each outing, but for ArtPrize, we spent a year painting over 1,000 rocks," he told Scary Mommy. "Each rock is it's own little personality."
After collecting more than 1,000 rocks, Zenz painted them one of seven base colors then had the kids paint whatever face they wanted on the rocks. Talk about an excellent family bonding experience. Some are silly, some are scary, but they're all awesome. Each rock has a matching pair. "I took half of the rocks, 500, and arranged them outside the Children's Museum in a sprawling display, creating a kaleidoscope of colors, shapes, and patterns," Zenz explained. "I took the other matching 500 rocks and hid them all over Grand Rapids in random locations."
Once it was completed, Grand Rapids families started to roam their neighborhoods in a giant game of "I Spy" to see who could find the most rocks. People were encouraged to upload their finds to social media sites with the #RockAroundGR tag. Zenz told us that one of the best parts of the project was "seeing families get so excited when they discover the fun game waiting out there for them to play. " People are loving it. Below are some of their rock finds.
The project's also a great reminder of how important it is to find creative outlets for our kids. "Art is very important to our family. We notice the art all around us — we've long talked about illustration together while we read picture books, visited art museums, and played creative art games together as a family," the father of six shared. "It's wonderful to see how their personalities come through the things they create."
Picking a favorite part of the process is hard. Zenz said, "Personally, I enjoyed watching all the pieces come together for this project — solving the logistic puzzles, watching the kids having fun painting, hiding the rocks around, photographing and filming them for the documentary portion." For the kids, he guessed that they "liked all the characters they were able to bring to life. I think they also enjoyed all the fun family time we spent during the many, many painting parties over the course of the year."
Meet the Zenz family and see the "Rock Around" project in the video below.