Dad Turns 4-Month-Old Into The World's Cutest Elf On The Shelf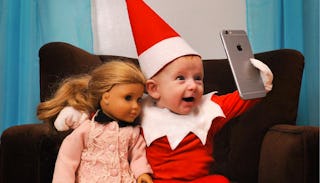 This dad took the Elf On The Shelf from creepy to cute with these adorable baby photos.
There's a new Elf On The Shelf in town, and this one actually won't make you feel like it's going to murder you in your sleep. A dad blogger turned his baby into a human-on-the-shelf, and it's the cutest thing in the entire world.
Alan Lawrence of That Dad Blog tells USA Today he got the idea to turn his four-month-old son, Rockwell, into a real, live shelf elf around Thanksgiving. Lawrence, a father of six, says his family has never followed the elf tradition, but he and his wife are fascinated by it. "This idea of telling your kids this elf lives in your home and causes mischief at night," he says. "We started to wonder how would parents really react to that."
Lawrence is a graphic designer and has experience staging amazing photos of his kids — he's the same dad who staged those inspiring viral "flying" photos of his other son, Will, who is living with Down Syndrome. To get the elf photos, he began staging popular Elf On The Shelf scenes and then photographing them, with his baby dressed in the traditional red outfit and hat. For some of the more dangerous shots, he held his son in place and then edited his hands out of the photo later on. The results are pretty amazing:
Lawrence has been sharing the photos on his Instagram account, where they've amassed thousands of likes. The dedicated dad has posted about 15 different elf photos so far and says he plans to continue creating new ones until Christmas.
The photos have resonated with tons of parents because they're such a clever twist on what has become one of the most ever-present and over-hyped holiday traditions in recent history. That damn elf is everywhere, and even parents like me who participate in the shelf-elf shenanigans are just a little bit sick of it. These photos highlight the absurdity of the whole thing and remind us all not to take it too seriously.
Plus, they're just some damn cute pictures. The real Elf On The Shelf has the face of a possessed ventriloquist's dummy. This kid? This kid is adorable, and captures all of the sweet innocence, wonder, and magic the real elf is supposed to represent. Kudos to this dad for finding a completely unique way to spread some holiday cheer.
This article was originally published on