Dad Figures Out A Hilarious Way To Make Snapchat An App Parents Will Actually Use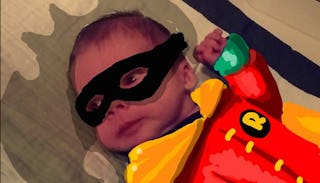 This dad uses Snapchat to turn baby photos into charming works of art.
If you don't use Snapchat, this creative dad might have you feeling like you're missing out on all the fun. His name is Lukas Costeur, and he's become known as "Snapdad" for the quirky and hilarious way he uses Snapchat to transform pictures of his one-month-old son.
Costeur is a Belgian graphic designer by day, but has built a steady following by sharing doctored photos of his newborn, Felix, on Facebook and Tumblr. He writes on his blog that he uses only the Snapchat app, a Nexus 5 smartphone, and a Wacom Bamboo stylus to transform his son into iconic characters from Buzz Lightyear to a jedi to Breaking Bad's Walter White. He also writes clever captions that would make any parent laugh out loud.
Costeur creates a new photo of his son almost every day and shares it online, where his following is quickly growing. His earliest shares have only a few likes, but more recent ones have likes and shares numbering into the hundreds. He told Babble he enjoys creating the pictures not only because they're fun to make, but also because they help him stay engaged with his son — he looks forward to their photo sessions and whatever character he'll create next.
The pictures have resonated with other parents because we're always looking for a good excuse to have a laugh. Most of us try not to take ourselves too seriously, and it's fun to see another parent use their creativity and their talent to focus on the lighter, more enjoyable sides of parenting. Having a newborn isn't easy, but parts of it can be pretty hilarious, and there's no better reminder of that than a one-month-old dressed as Pinnochio lying about his poopy diaper.
Technology has given us a lot of cool ways to preserve memories of our kids that are totally unique. A few weeks ago there was the dad who turned his baby into an Elf On The Shelf. Before that, there was the mom who used a makeup app to give her baby hilarious "makeovers." It's just another way parents are expressing themselves and creating keepsakes that are totally one-of-a-kind.
We look forward to what Snapdad will come up with as little Felix gets bigger and more active. Something tells me the photo sessions might get a bit more complicated.