Dad Wearing A Clown Mask Follows His Son's School Bus And Terrifies Everyone On It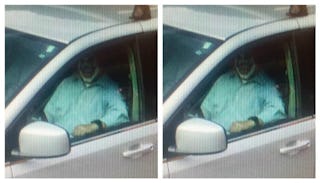 Image via Auburn Police Department.
Massachusetts dad wearing a clown mask allegedly scared kids by following them
With the election from hell, it felt like we all decided 2016 had been scary enough. Then the creepy clowns came out, and we thought, "what next?" Even that's been taken way too far. A dad wearing a clown mask allegedly followed a school bus and kids home through a neighborhood last week.
As if the world isn't terrifying enough, the clowns arrived this past summer. In August, a South Carolina apartment complex warned its residents that clowns had been on the property attempting to lure children into nearby woods.
Then there were the kids who were chased by lunatics dressed like clowns in New York and New Jersey. Cops found one of the kids, a 10-year-old boy, terrified and hiding between two homes. But surely no one in their right mind – especially a parent – saw these news reports and thought, "Oh, this is going to be f*cking hilarious when I follow my kid and their classmates around." But that's exactly what a dad in Auburn, Massachusetts did just a few days ago.
The individual was determined to be a parent of one of the students on the bus.
WHAT THE HELL?
The police, who received calls from concerns kids' parents, took to Facebook to update their community on the super unfunny stunt. An "Auburn man who, while dressed as a clown, followed several middle school students from their bus and bus stop," the cops wrote. "This caused extreme fear to the children and also caused them to have to hide under a nearby backyard deck to avoid the man."
Walking down a street while a man wearing a clown mask follows you in his car sounds like the beginning of a horror movie. Police haven't released the name of the genius dad, but they did announce his charges which include disorderly conduct and disturbing the peace.
He's probably safer in jail, because we're assuming his wife is already plotting his murder.
"We are hopeful that others will learn from this incident and not repeat these types of behaviors," the cops shared. Um, yeah, us too. Following kids (or adults) around a neighborhood from your car is never a good idea, but throw on a clown mask, and we're really not going to feel bad when the cops show up at your door.
This article was originally published on