Father's Open Letter To Ariana Grande Goes Viral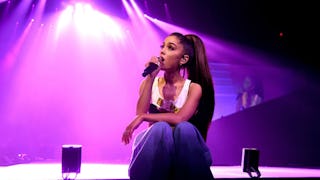 Image via Kevin Mazur/Getty Images
Dad of daughters writes open letter to Ariana Grande after the Manchester attack
If there's one thing we can hold dear after the devastating terrorist attacks in Manchester it's this: resilience will eventually shine through the darkness. And one father from Georgia is showing us the way with his heartfelt words.
Patrick Millsaps, dad to three daughters, wrote Ariana Grande an open letter after the singer canceled her Dangerous Woman tour through early June. Her decision to suspend shows came two days after the Manchester bombing at her concert this past Monday.
The star is undoubtedly shaken and grieving. She addressed her fans on Twitter the night of the attacks and wrote "Broken, from the bottom of my heart, I am so sorry. I don't have words."
In Millsaps' letter, the self-described "fat dude from Georgia" tells Grande not be sorry and implores her to keep singing. He posted the letter on Twitter and it quickly went viral for all the right reasons.
"I am the father of three daughters — ages 13, 12 and 12. So, you have been a part of our family for years," writes Millsaps.
"On occasion your songs have stayed on the radio AFTER I have dropped the girls off at school. I will neither confirm nor deny that I have personally seen every episode of Sam and Kat."
He first addressed her saying she was " so sorry" and wanted to set the record straight. He instructed Grande to listen up and "receive some redneck love from a daddy of daughters."
"You don't have a dadgum thing to apologize for," writes Millsaps. "If some jackass had gotten drunk and killed someone with his car next to your hotel in Manchester, would you feel responsible?"
"If the night before your concert, a tornado had hit Manchester and tragically killed several people who were going to your concert; would you feel the need to apologize?" he asks.
The dad and former talent manager then recommends that she tell all of her managers to take a hike. He suggests she take however much time she needs to deal with her emotions.
"Spend time with your God, your family and your friends who will give you the space and support when you need it."
What happens in the last paragraph of Millsaps letter hits us most deeply in the heart and soul. He says that when she's ready she should definitely sing again.
"Music is the international language of peace. Every time you open your mouth and share that incredible God-given gift to the world, you make this crappy world a little less crappy." He notes that it's important that the singer take care of herself first and that her fans aren't going anywhere.
He signed it: "Sincerely, Morgan, Alison, & Kendall's Daddy"
The healing after such a horrific attack won't come easy; it will be unbelievably painful for the survivors, the victim's families, and for those feeling the shockwaves. The only thing that will get us through is our resilience and ability to reach out to others in pain.
This dad's letter teaches us to share in the grief, be vulnerable, and provide support to those who need it whether it's a star, celebrity, or your neighbor down the street. The comfort will come just like this: through human connection.