As A Husband And Father, I'm Going To Step It Up This Holiday Season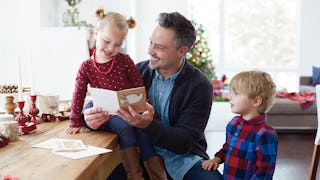 Last holiday season, I saw a meme that read "I'm excited for Christmas Morning to see the look of surprise on my husband's face when he finds out what he bought for everyone." I read that sucker a few times, and each time I got a little more defensive. Then I tried to think about what we were getting our own kids. I had loose idea… didn't I? We were getting that one thing… with the fur, that talks, what was it called? Or did we not get that because it was too expensive. Huh, guess I didn't really know.
I didn't even think about what we were having for Christmas dinner, or our travel plans, or where everything would be hidden and when it would be wrapped.
After pondering on it for a good time, I realized that I, in fact, had no idea what my children were getting that year for Christmas. Sure, I called myself Santa on Christmas Eve, but who was really making the magic? Not this jolly old man, no sir. It was my wife, Mel.
On her computer she had a spreadsheet where she listed out all the things the kids wanted. She ranked them. She listed their prices. She compared deals online. She kept a budget of how much we had for each child. She had windows and windows of toys and clothes open on her computer, and phone, and tablet, so she wouldn't forget where she found that one thing the kids really wanted. She checked reviews and discussed toys with other moms. She organized all the Amazon packages, hid them, wrapped them, and then hid them again. She stayed up late, and got up early, taking on the full emotional labor of the holiday season, while I brought in the paycheck (like I always did) and cut down the tree, and hauled it to the truck.
I mean, sure, the tree is important, and lifting it was difficult, but honestly, I didn't think for more than two seconds about Christmas. If managing Christmas were suddenly placed on my shoulders, I'd probably end up handing my children an envelope full of wadded up bills, without a card, placing me somewhere between an uncle and drug dealer.
My wife is the real creator of holiday cheer, from start to finish, and you know what, that sucks for her. In fact, it really sucks.
So this year, I'm stepping it up.
We've gone on so many shopping dates it hurts. We've been discussing toys and trying to figure out what's going to work for our kiddos. On Black Friday, we stayed up, side by side on the sofa, ordering things online, discussing deals, and trying to find the right fit for our children. I bought all the candy for the wooden shoes (it's a Dutch thing and Mel's family is Dutch). Usually we put off this Dutch tradition until Christmas Eve, even though Sinterklaas is supposed to come on December 5. However, with my help, it actually happened on time. Imagine that? I'll also be picking up the candy for the stockings. I'm giving input, and taking advice. I'm even helping to plan and shop for Christmas dinner.
Now the real question is this: Could I be doing more? Absolutely.
But this whole "dad stepping it up around the holidays" isn't going as smooth as I'd like, I'll be honest. Just the other night, we were trying to decide on a shirt for my son to wear. I thought he'd really like a Harry Potter T-shirt with the cover of his favorite book from the series, while Mel was 100% sure he'd rather have a soccer shirt because that's his other passion. We argued about it, and she pulled the "I've been doing this much longer than you" card. In the end, we decided to get both because we found good deals.
And remember when I said I got the wooden shoe candy? Well, I also got the kids some toys, one of them being some light up reindeer earrings for my middle daughter. This kind of threw off the budget, and I got a little heat for that. Okay, a lot of heat. But hey, she loves them, and she's been wearing them every day to school since we put out the wooden shoes on the 5th.
So what I'm trying to say is that sometimes it has felt I was doing more harm than good. It felt like I was cramping Mel's already well-oiled Christmas preparation machine.
If you are a dad trying to do more, please don't let this deter you. It will take…eventually.
On the flip side, I want to pitch in, but Mel's having a little trouble letting go of the reins. But that's the thing with trying to share the load, it can take some adjustment. If your husband is trying, let him get his hands dirty. He might screw it up, but that's okay. He will figure it out soon enough.
Because, if we go to those earrings, there was a moment the other night where Norah was going on about how much she loves them, and for the first time in a long time, I felt like I was part of something much more during the holidays than I'd ever been before. It felt good to get Norah something that I knew she'd like. There's warmth there, and excitement that can't be matched, and all of it is making me very excited for Christmas this year because I'm going to be more involved than ever.
So if you are a dad, and you don't know what you're getting your children for Christmas, now's the time to step it up. You can still help even though it's just around the corner. And trust me, it's definitely worth it.
This article was originally published on