This Dad's Letter To His Daughter's 'Time Traveling' School Is Seriously On Point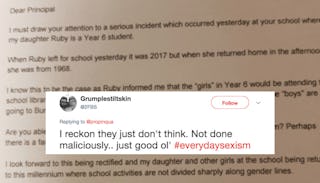 Image via Twitter/Stephen Callaghan
Time travel is clearly the only explanation for this school's extreme gender stereotyping
Hey, teachers and principals and school administrators are only human. Sometimes they mess up, and one way to let them know when they've made a goof is to write them a nice letter. That's what Stephen Callaghan, dad of a 12-year-old daughter, did when her school made a seriously big oopsie: It apparently traveled back in time a few decades.
Read his letter and it'll all make sense.
"When Ruby left for school yesterday it was 2017 but when she returned home in the afternoon she was from 1968," he wrote. "I know this to be the case as Ruby informed me that the 'girls' in Year 6 would be attending the school library to get their hair and make-up done on Monday afternoon while the 'boys' are going to Bunnings."
Bunnings, in case you don't know, is a hardware store chain based in Australia, where Callaghan and his daughter live.
Callaghan continued on with a pretty reasonable sounding request for the school.
"Are you able to search the school buildings for a rip in the space-time continuum?" he wrote. "Perhaps there is a faulty Flux Capacitor hidden away in the girls toilet block?"
As you can see, he has a real point. It would take a serious problem with the space-time continuum for a school, in the year 2017, to actually think it's a good idea to give girls hair styling and makeup lessons while the boys take a trip to a hardware store. We truly couldn't have come up with a more ridiculously clichéd gender stereotype if we tried.
Callaghan concludes, "I look forward to this being rectified and my daughter and other girls at the school being returned to this millennium where school activities are not divided sharply along gender lines."
Unfortunately, while we love Callaghan's letter, much of Twitter did not. The replies to his tweet were filled with trolls who didn't see anything wrong with the school's blatantly sexist lesson plan. Luckily, Callaghan still had plenty of snark ready to fight back.
And amid the trolls, he did have some support.
Sigh. If anything, this just proves that there's still plenty of fighting left to do to leave casual sexism behind, even in 2017. At least there are dads like Callaghan who are stepping up to the plate.