Dad's Plea For A Replica Of His Son With Autism's Favorite Cup Goes Viral
by Sarah Hosseini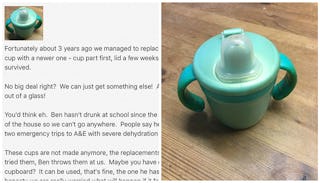 Check your cupboards parents, Marc Carter is looking for a very specific sippy cup
There is a search spanning the entire planet earth right now for one very important thing: a light blue sippy cup. It can't be just any light blue sippy cup either.
Marc Carter of Devon, England needs help locating a Tommee Tippee light blue sippy cup for his 13-year-old Ben who has autism. The dad says he won't drink out of any other cup. In his desperate plea on Twitter, Marc explains, "Ben hasn't drunk at school since the age of 5, he doesn't drink outside of the house so we can't go anywhere." For those of you thinking, surely Ben will drink at some point … nope, not a chance said his dad. "People say he will drink when he's thirsty, but two emergency trip to [the ER] with severe dehydration say otherwise," Marc wrote in his post.
What makes this search challenging is that the specific Tommee Tippee light blue sippy cup that Ben needs, has been discontinued for years. Ben has one right now, but it's falling apart. Enter the power of social media: In just a couple of days the twitter post has been shared over 18,000 times.
People from all over the world have been scouring their homes for replicas of the cup. Many are using the hashtag #CupsForBen to help in the search and even Tommee Tippee offered their assistance on Twitter.
It's hard to believe, but in just a few days multiple people tweeted that they have the cup and can send it to Ben.
To understand the magnitude and severity of this sippy cup crusade, you'd have to understand that children with autism often have very specific food behaviors and habits they need to adhere to in order to function. Some fixations and so-called "preferences" are very intense. The wants aren't just to make the children feel comfortable, they're downright necessities in many cases. Sometimes it's not as simple as take it away and see what happens.
"Genuinely, this little blue cup controls our life," Ben told PEOPLE. "We are terrified of taking it out of the house in case we lose it. It was lost at Ben's school for 24 hours once and we didn't sleep because Ben didn't drink and we were terrified — genuinely terrified."
Of course the sippy cups offered to Marc and Ben are just the start, because realistically Ben will probably need several more. As the years go by, these cups will no doubt get rarer and rarer so Ben's dad is doing everything he can to get as many of these cups as he possible can right now.
He posted this update on Twitter after his post and story went viral.
In the post he thanked everyone for their help and recognized how amazing the response has been. He also wrote, "The reality is Ben is unlikely to change, so I will need these for the rest of his life. That's a lot of cups."
Indeed, hundreds and hundreds of cups, maybe even thousands. Out of reach? We don't think so. If there is one thing this story proves to us today, it's that nothing is impossible when humans are nice to each other and work together.
Can you help Marc and Ben? Let's keep this search going. If you think you have this cup, you can tweet Marc at @PMPProject or Tommee Tippee at @tommeetippee_uk or use the hashtag #CupForBen. If you don't have the cup, but still want to help you can share this post and posts like it on Twitter to reach as many people as possible.