Dads Take Free Hairstyling Classes Courtesy Of Brilliant Single Father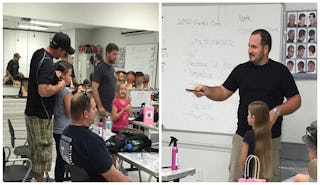 There are bad hair days, and then there are dad hair days. The latter usually leads to a crooked ponytail and a head full of knots. That's why one Daytona dad had the brilliant idea to start a class to help other men figure out how to fix their daughters' hair.
Philippe Morgese became a single dad when his daughter, Emma, was a toddler. He knew he'd have to step up and learn how to do her hair, so he started learning everything he could about styling. He started with simple hair clips, then moved on to more difficult 'dos like ponytails and braids. Eventually, he was making magnificent creations that garnered attention and compliments from everyone they met. Here's a photo of his "braided reverse fishtail," which is something I don't even know how to do:
Morgese kept getting questions from dads who wanted to know his secrets, so he decided to bring his talents to the classroom. Last month, he announced on Facebook that he was putting a class together to teach dads basic hair care skills.
On Tuesday, the class took place at a local beauty school called International Academy. Morgese shared photos from the day on social media and talked about what a huge success it was.
In total, seven men took the class with their daughters and the whole thing was free because International Academy donated the space. Since photos from the class went public, Morgese says he's been flooded with requests for more lessons and he even set up a Facebook page to announce future class dates. He wants to keep it going because, as he tells Buzzfeed, "I get a lot of credit for doing her hair and hear compliments about my role as a father because of it. I want other dads to be able to experience that."
Morgese's class is getting tons of media attention, and it isn't hard to see why. The idea of dads and daughters spending a day bonding and learning something new together is awesome, and it's nice to see dads taking such an interest in something that's typically relegated to moms. More dads should do hair and take on the tasks that moms "traditionally" do, not only because it's helpful, but also because it helps eliminate gender stereotypes in parenting.
More importantly, though, Morgese's classes show the need for more things centered solely on dads. Moms get "mommy and me" classes for every activity under the sun. Outside of a daddy-daughter dance or a Father's Day event, it's rare to see similar things for dads. Dads are more hands-on parents than ever before, and that's a good thing. There should be more classes and events like this where fathers can learn new skills, bond with their kids, and meet fellow dads who are equally as devoted to fatherhood. Kudos to Morgese for starting such a valuable trend.
This article was originally published on