Female Attorney General Candidate Nails Why We Need More Women In Office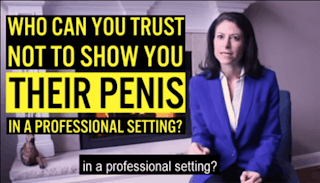 Image via YouTube
Dana Nessel makes a great point in her new campaign ad
The news cycle lately has been one horrifying story after another of men being outed as serial sexual predators. It's not that we didn't know sexual harassment and abuse happened, it's that more and more women are refusing to be silent about it. But as Michigan attorney general hopeful Dana Nessel points out, there's even more we could be doing to stop the pervasiveness of this troubling behavior. Her brilliant idea?
Elect more women.
In her new controversial campaign ad, the democratic candidate didn't hold back from the naked truth regarding sexual harassment.
"So when you're choosing Michigan's next attorney general, ask yourself this: Who can you trust most not to show you their penis in a professional setting? Is it the candidate who doesn't have a penis? I'd say so."
That's a pretty ironclad argument right there.
The video shows a montage of recent sex scandals involving prominent men (Roy Moore, Charlie Rose, and Donald Trump). Nessel vows her name will never be added to the disgusting list.
"I want to tell you what you can expect me not to do," she adds. "I will not sexually harass my staff, and I won't tolerate it in your workplace either. I won't walk around in a half-open bathrobe, and I'll continue to take all sex crimes seriously just like I did as a prosecutor."
Can we move to Michigan just to vote for her? This woman is a strong and brilliant force for good, which is sorely needed right now. She's also no stranger to controversy and standing courageously alone to do what rightfully needs to be done. In 2013, as a prosecutor, she took on a case to strike down Michigan's gay marriage ban and ultimately won.
Nessel is now running for attorney general, which would possibly make the Michigan Democratic party an all female ticket. In 2018, all signs are pointing to female candidates for senator, governor, and attorney general for the state. We know it's 2017 and this shouldn't be an issue, but here we are. People apparently have feelings about this (not fuzzy ones). In her new ad she addresses critics and the absurd notion that an "all female ticket" would be inherently bad.
"Yes, I'm a woman. That's not a liability, that's an asset," Nessel says in the ad. Since the spot debuted, Nessel has had to defend it, because talking about sexual harassment seems to make people uncomfortable.
"I think the ad was rather tame when it comes to the news stories that have come out, whether they are journalists, whether they're in Hollywood, or whether they're political representatives. We've heard some pretty lewd stories coming out," she tells Fox 2 News in Detroit.
She aded, "I'm constantly hearing, 'well I like you, I like your candidacy, I like things that you say but we can't have an all female ticket' and my response is always the same: 'why?'"
Exactly. Why? The primary election is set for Aug. 7, 2018.
This article was originally published on