'Dance Moms' Star Zackery Torres Announces Transition In Happy TikTok
by Madison Vanderberg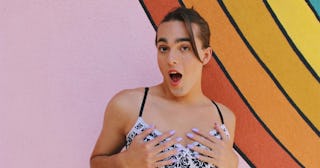 Zackery Torres/Instagram
'Dance Moms' star Zackery Torres comes out as trans in TikTok post
Zackery Torres grew up onscreen for five years as one of the stars of the Lifetime reality series Dance Moms. Now in a joyful and adorable new TikTok, the dancer revealed that they are transitioning and their pronouns are now they/them and she/her.
"I'm transitioning!" Torres shared. "That means I'm transgender if you didn't know. My pronouns are they/she, which means that they or she are totally fine, and I'm just hopping on here to tell you that I'm going to be posting more on Tiktok and I'm excited about it!"
Torres came out as non-binary when they were a sophomore in college (they just graduated from USC this year), and told The Daily Trojan at the time that growing up in the dance world actually made it harder to come out and that teachers were extremely rigid when it came to gender expression.
"I started seeing all of the expectations that teachers — well-known dance teachers, and well-known choreographers –had for me as a male dancer growing up and at the time identifying as a boy," Torres said in October 2020. "'Oh, you're too feminine, you need to dance like a man.' Just having teachers tell you that on national television, all this stuff, it kind of really got to me. Everyone always talks about how inclusive the arts communities are. But I'm just not really feeling it. I'm not seeing it on an everyday scale."
Torres, who is from Pittsburgh, Pennsylvania, adds that it wasn't until they went to college in Los Angeles that they could embrace their actual gender identity.
"Those conversations just weren't prominent enough in my local communities and in my circles, so I didn't really have the resources," they shared in the same interview. "I just kind of shoved it down because I didn't like the feeling of the unknown."
After Torres announced her transition on May 31, 2021, the TikTok went viral and was the number two trending story on E! News after an article about John Krasinski.
"I was literally cleaning a toilet when I saw this article," Torres said with a laugh in a follow-up video. Torres commented that she was "freaking out" and so surprised by the reaction to their coming out video.
"Don't really have a ton of words to express how I am feeling right now, other than grateful," Torres shared in an Instagram post. "Grateful to everyone who has supported me and continued to help me be my full self. Grateful for the outpour of love and support. Grateful to all the advocates who made this possible. As I sit here with my mount still open, it is important to recognize the amount of LGBTQIA+ individuals who do not receive this loving response. There is still work to be done, and I cannot wait to be a part of it."
Sending love to this honest young dancer, what a lovely way to kick off Pride month.