Viral Video Of 'Dancing Doc' Who Cheers Up Pediatric Patients Is Amazing
by Thea Glassman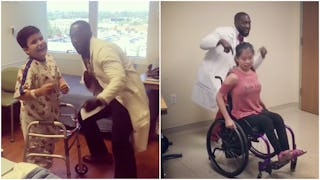 Image via Tony Adkins/Instagram
The "Dancing Doc" boogies with his pediatric patients and the videos are a complete joy
Prepare for your heart to feel really, really happy. Tony Adkins is a physician assistant (PA) for pediatric neurosurgery at Children's Hospital of Orange County. He's also known as the "Dancing Doctor," because he likes to get down and boogie with his patients. Adkins posts clips of himself dancing with the kids on Instagram, and each one is just a completely beautiful, bright ray of sunshine.
A video of Adkins has gone wildly viral on Twitter — probably because it's pure happiness and beauty and we all need more of that right now.
Adkins says he grew up in a "rough neighborhood," where violence was rampant and both his older brothers were in gangs. Whenever he felt down, he'd cheer himself up with music and dance. "It gave me a way to cope," Adkins tells The Orange County Register. "And now, I use the same thing that helped me to calm my patients."
The PA said that he wants his patients to "feel like kids again." He does ballet with 5-year-old Avery Rogers, who is undergoing brain surgery. He gets down to Pharrell's "Happy" with 9-year-old Tony Sarkis, who's dealing with a spinal cord defect. And he shakes it to "Can't Stop This Feeling" with 7-year-old Sophie Emmanuelli, who was hospitalized for seizures.
And that's just the tip of the dancing iceberg.
https://www.instagram.com/p/BnMSRmrhEuj/
https://www.instagram.com/p/BmoSk6WhP6B/
The logic behind Adkins' dancing is simple. He just wants to make his patients happy.
"Many neurology patients often can't move their hands or legs and may be tethered to their beds or wearing a brace. Being celebrated through song and dance brings them much joy and helps to get their minds off their disease," Adkins writes in an article for Medpage Today. "That's why you might catch me in the hospital halls or in a patient's room grooving to a hit song with my little friends."
His moves have become so popular that patients will actually call ahead to make sure that they can schedule a dance session during their appointment.
"Dancing with Tony gets their mind off their disease and the pain they're experiencing at the time," Dr. Michael Muhonen, director of neurosurgery at CHOC Children's Hospital, told The Orange County Registrar. "It's like giving that patient a shot of morphine to relieve pain."
https://www.instagram.com/p/BmzrocJhijY/
Unsurprisingly, the internet has fallen in love with Adkins. Like, head over heels in love.
The "Dancing Doc" is well aware of his newfound celebrity status (he's been stopped by strangers who recognize him from Instagram), but his main focus is continuing to keep his patients happy.
"If I can help to instill a love of music and dance in my patients, in addition to improving their outcomes and outlooks, that's a wonderful thing," he tells The Daily Mail. "There's nothing better than seeing a smile on my patient's faces or to hear them laugh – it's self-care for me too."