Baseball Player Is Face Of Paternity Leave After Skipping Playoffs For Kid's Birth
by Julie Scagell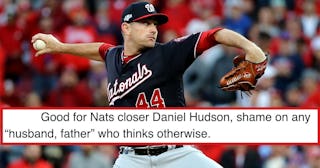 Scott Kane/Getty and Tom Dougherty/Twitter
Daniel Hudson misses MLB baseball playoffs to be with his wife during the birth of his third child
Seeing the birth of your child is one of the few gifts in life — an experience no one wants to miss. Washington Nationals relief pitcher Daniel Hudson learned that firsthand this week, choosing to miss Game 1 of the National League Championship Series to be with his wife during their daughter's birth.
"I knew I was going to go no matter what," Hudson told reporters (via Today).
Related: Taking This Much Paternity Leave Means Relationships Are More Likely To Endure Post-Baby
Hudson's wife, Sara, gave birth on Friday, October 11, 2019, to a beautiful baby girl named Millie in Scottsdale, Arizona, and for Hudson, there was no question as to whether or not he'd be present at the birth despite joking that "we didn't exactly plan to have a baby in the middle of the playoffs."
Despite the drama surrounding the Friday game, Hudson was back in time for Saturday's game, where the team went up 2-0 in the series against the St. Louis Cardinals.
"Having a baby is the biggest blessing in the world," Hudson added. "To come out here and get a save in a playoff game is second to that, but it's pretty cool."
It seems for the pitcher and new father, his team had his back the entire time.
"I told [Hudson], 'Hey, families always first,'" Dave Martinez, the Nationals manager, told reporters. "I get it, I understand. The timing didn't work out like we thought, baby wasn't ready to come out. So we get him back when we get him back."
General Manager Mike Rizzo agreed. "These decisions are easy," Rizzo said (via The Washington Post). "A happy player is a performing player. We've got to take care of our people. You have to treat this like a family. And the important thing is, we've got a new little member of the Nationals family."
Unfortunately, at least one former player disagreed with Hudson's decision to miss the game for his daughter's birth.
"Unreal that Daniel Hudson is on paternity list and missing game 1 of #NLCS. Only excuse would be a problem with the birth or health of baby or mother," tweeted ex-Marlins president David Samson ahead of Friday's game. "If all is well, he needs to get to St. Louis. Inexcusable. Will it matter?"
"We were made aware of a lot of negative comments, but everybody's got their opinions and everybody's got their own priorities," Hudson told NBC Sports. "And this organization was 100% on board with what my priorities are, and I'm really appreciative of that."
Hudson also received a ton of love on social media, including Serena Williams' husband Alexis Ohanian, who said he was buying Hudson's jersey.
Hudson also said he was ecstatic to see his two older girls meet baby Millie for the first time. "I have two older girls as well, so this is my third girl," Hudson said. "My oldest is 5, my middle one is 3. So needless to say my oldest was pretty excited to meet her new baby sister [Friday]. So to be able to have that experience with my family and be there for the whole thing was everything I could have imagined."
As it should be.
This article was originally published on